Glencloghlea: Portal-tomb
S 698 273
Sheet 76
click on the thumbnail for larger pictures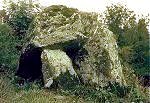 2.4 km W of New Ross, 400 metres up a tarred lane to the NW of a by-road leading to Mullinavat - then 400 metres up a grassy track to an abandoned farm, and then across two fields, this portal-tomb has a capstone 3 by 2.4 metres and 1.5 metres thick. It is supported by one slab-like portal-stone 1.5 metres high, and a door-stone. The backstone has collapsed.
~ 11 km SW of Glencloghlea in Farnoge (S 602 224) is a ruined double-court tomb with back-to-back galleries aligned North-South, and segmented by jambs & sills. One large stone in front of the N gallery may be the remains of a court.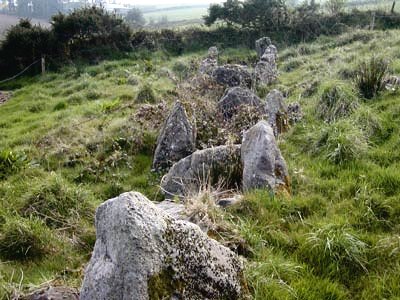 ~ 9.5 km W of New Ross in Ballynoony West (S 605 276) is a three-stone row which is up the hill from the site marked on sheet 76. The stones range from 90 to 120 cms high. The local folklore recounts that this is where Cromwell's soldiers caught up with three monks fleeing from Jerpoint Abbey and put them to the sword. 'The Three Friars' are whitewashed, an old tradition all over Ireland, now (along with almost every meaningful tradition) almost entirely abandoned. Near the site marked on the map is a boulder-burial, and near it a well.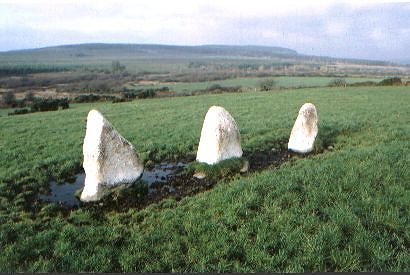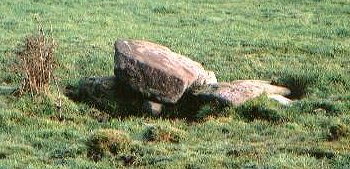 ~ 9.5 km W of New Ross and about 2.5 km NE of Mullinavat in Ballyvatheen (S 576 267) is a fine standing-stone over 2.2 metres tall, tapering at the bottom (presumably due to erosion) where it is only 25 cms thick.
About 700 metres NNW of the standing-stone is a small wedge-tomb, buried in gorse (S 574 273) which has a very long, narrow gallery with wide double walling.
~ 9 km S by W of New Ross is Whitechurch stone-row (see under county Wexford)
---
Kilmogue: Portal-tomb
S 503 281
Sheet 75
Up a farm lane and across a field to the North, this fine dolmen, 1 km W of Harristown, is hidden in a hollow and was, until recently, surrounded by bushes. It is known as Leac an Scáil ("The Spirit Stone"). Its portal-stones are 3.6 metres high, framing a fine door-stone 2.7 metres high. The dramatically-tilted capstone projects beyond the portal and reaches a height of 4.5 metres. Its lower end rests on a smaller, horizontal stone which partly covers the chamber. Traces of cairn survive round about. The tomb faces a little stream.

~ 3.2 km SW in Garryduff, immediately W of a crossroads 2.4 km NE of Owning at S 467 273, is "The Long Stone", an impressive menhir 3.5 metres high, 1.3 metres wide and 30 cms thick.
~ At Owning itself (S 450 267) is a low portal-tomb surrounded by brambles. The capstone has fallen to one side of the chamber, pushing one of the portal-stones (which are 1.6 metres high) slightly inward.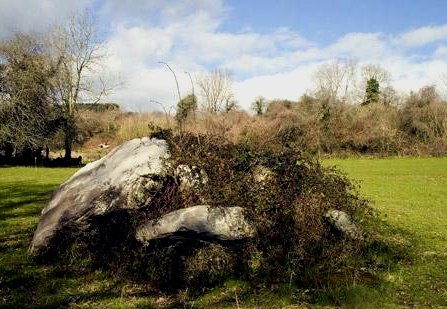 ~ 12.5 km NNE in Ballylowra (S 555 377), less than 1 km SSW of Jerpoint Abbey, at the rear of a farm building, is a megalithic kist tomb whose capstone is at ground level and which resembles the dolmens of the French limestone plateaux.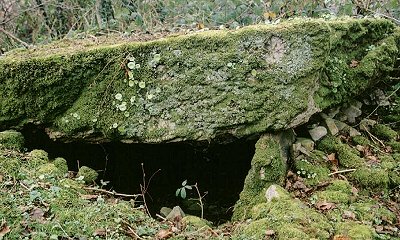 ~8 km ESE is the standing-stone at Ballyvatheen (see above).
~ 11 km SE is the double-court tomb at Farnoge (see above).
---
.Knockroe: Passage-tomb
S 430 283
Sheet 75
This site - known as The Cashel - on Kilmacoliver Hill not far SE of the celebrated 9th century crosses at Ahenny in Tipperary (and a similar distance NW of the cross at Kilkieran in county Kilkenny) is slowly being excavated - hence (in 2003) a tall barbed-wire fence and much black plastic sheeting. There are two passage-tombs. The simple western tomb has a roof-box which allows the rays of the setting sun to pass along the upward-sloping passage at the Winter Solstice, when it illuminates a tall red-sandstone portal. The stones of the chamber are carved with cups & rings and concentric circles. The eastern tomb has a double-cruciform chamber.
In all there are about thirty decorated but weathered stones at the site, which overlooks a river - as does a nearby cairn to the SE. The view W (the direction of the equinoctial sunset) is to the prominent hill of Slievenamon (Tipperary) with cairns on its summit and N ridge.
~ 100 metres to the N (S 430 284, marked Megalithic Tomb on sheet 75) is another fine passage-tomb affording splendid views. This too is ruined, with very little of its cairn remaining, but with a substantial number of its kerb-stones and several of the chamber-orthostats surviving.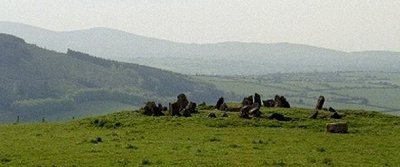 ---
Smartscastle East : Standing stone
S 503 792
In a field behind a pub between the Waterford by-pass and the M9 motorway a few kilometres N of Waterford is a handsome standing stone 2.5 metres high.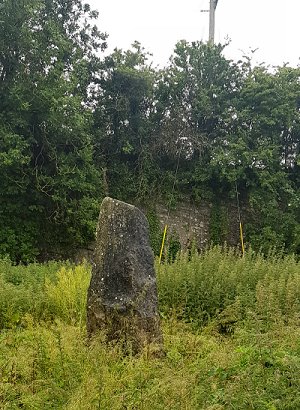 photo by David Heenan
There are likely to be many unrecorded standing-stones in the area, extending W to Tipperary - such as this phallic one, prudishly bashed in the 19th or early 20th century - photographed by Nigel Borrington.
---
all pictures except the last three on this page are by Tom FourWinds