Aillemore: Court-tomb
L 762 738
Sheet 37
This fine and well-preserved megalith, some 8 km WSW of Louisburgh, near the crest of a ridge overlooking the valley of the Bunsheenshough river, is visible 300 metres WNW of a track. It comprises a 2-chambered gallery and a small subsidiary chamber behind it. The cairn rises to the top of the gallery-stones (about 1.5 metres high) and is over 16 metres long by 14 metres wide. The court is obscured by cairn material and field-fences. The outstanding feature of the tomb is the steeply-pitched, packed corbelling of large slabs on the gallery, especially on the N side. The subsidiary chamber is almost concealed by corbelling and by stray débris from the cairn.

~ Nearly 4 km ENE is Srahwee wedge-tomb.
~ 3 km NW are the standing-stones of Cloonlaur (see under Srahwee).

---
Askillaun: Double Stone-row
L 774 808
Sheet 30
Two lines of large but low boulders, over 3 metres apart run NW-SE, with 3 stones on one side and 5 on the other are known as "The Giant's Jackstones" or "Clocha Fionna" (the handsome stones).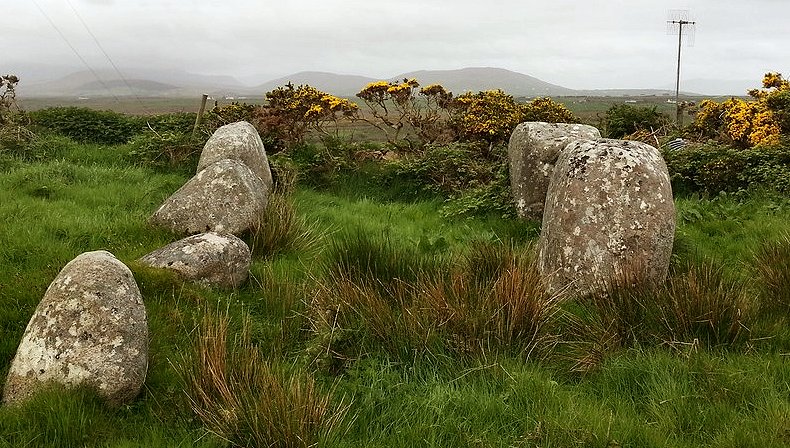 ---
Ballyglass: Court-tomb
G 096 383
Sheet 23
In a field to the NE of a by-road, 1.2 km from Ballycastle, this fine and large monument - over 27 metres long - has an elongated central court 12 metres long by over 7 metres wide, giving access to a twin-chambered gallery at each end. Just one lintel survives in position, while two others have slipped into each end of the court. Excavations showed that the tomb had been built over part of the remains of a Neolithic rectangular timber house: a booklet on the excavation might be bought in Ballycastle.

~ About 200 metres S (G 098 379) is a ruined full-court tomb which has a false entrance of jambs and flankers on the N side of the court, as well as a true entrance.
~ 1.4 km WNW in Ballyknock (G 083 387) are the remains of a portal-tomb comprising one massive portal stone and a stone leaning against it which could be either the other portal stone or the capstone. The site offers spectacular views northwards towards Downpatrick Head and the Atlantic Ocean.
~ 4.2 km WNW is a court-tomb at Glenulra (G 058 401) almost buried in peat from which a few corbel-stones can be seen poking through. A small chamber is exposed at the E end of the monument.
~ 5 km NW, approached by the R.314 to Belderg, and 500 metres SW of the Céide Fields interpretive centre (incorporating a neolithic hut-site) at Behy (G 048 405) is a court-tomb re-embedded in peat-bog after excavation. Only the rear of the still-roofed gallery is now visible.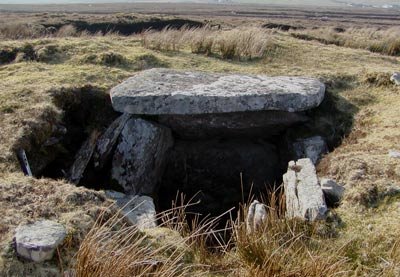 ---
Boheh: Petroglyphs
L 975 785
Sheet 31

6.5 km SSW of Westport, behind a house on the W side of a narrow by-road to the E of Boheh Lough and the Westport-Leenane road, a roughly-circular outcrop of rock known as "St Patrick's Chair" is covered with many cup-marks, concentric rings, and maze-motifs over an area 3 metres across.
On two days every year in (e.g. April 22nd and October 21st 2001) the setting sun rolls down Croagh Patrick to the W, when observed from close by St Patrick's Chair (whose view to Croagh Patrick is obscured by farm buildings). Something similar occurs at Malin More, county Donegal.

~ 1.3 km NE in Lanmore is 'Clogh Phadraig' or St Patrick's Stone: one of several standing-stones in the area.
~ 4.8 km NW in Killadangan, 2.5 km E of Murrisk Abbey, over-shadowed by Croagh Patrick in a field known as Gortbraud to seaward of the road to Louisburgh, opposite a lay-by (L 942 828), is a marshy field scattered with standing-stones of various heights, many picturesquely surrounded by water.
There are remnants of a double stone circle (? or centre-court tomb ?) 12 metres in diameter, a line of small boulders near the road which may be the remains of a large oval enclosure, and an alignment of 4 stones of decreasing height, of which the tallest is 1.2 metres high, and broken.
---
Bracklaghboy: Ogam stone
M 474 807
Sheet 32
In the townland of Island, in the centre of a round mound to the E of a by-road, is a stone (known as "Lisvaun") 1.8 metres high and leaning backwards, which has the worn ogam inscription CUNALEGIAV... ...QUNACANOS.
~ 8 km NNE, just over 10 km N of Ballyhaunis, is Cappagh Double-court tomb, information on which I have lost!
~ 16 km NNE in Rusheen East (M 557 943) is another ogam-stone 200 metres nearer the road than where the map marks it (at a holy well). It is behind a derelict farmhouse, is square in section and about 1.3 metres high, standing on a rocky outcrop. The ogam inscription runs down the SW edge and is in good condition. When last visited (2003), someone had placed a little quartz pebble on top.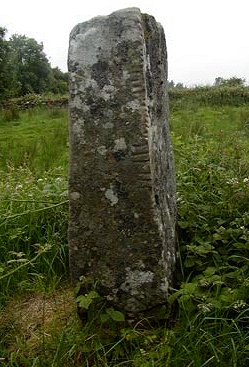 ---
Breastagh: Ogam-stone
G 183 337
Sheet 24
Almost 5 km NNW of Killala, to the W of a by-road leading to Lackan Bay, this large, square-sectioned stone almost 2.5 metres high was very probably a Bronze Age standing-stone later adapted for memorial inscription in ogam. On one side the defaced inscription LEGG...SD...LE ESCAD can be made out. On the other: MAQ CORRBRI MAQ AMLOITT ('maq' is the modern Irish 'mac' meaning 'son').
click to see the other side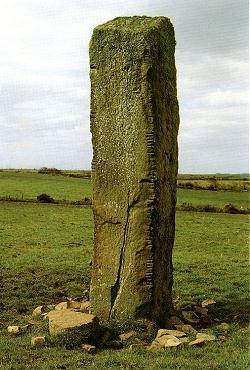 ~ In the same townland (G 183 339) some 200 metres N of the ogham stone, is a large wedge-tomb with large wall-stones, but with one side destroyed. From it fine views may be had.


click for a splendid photo by Jim Dempsey
~ About 1.6 km S, on the W side of the road to Lackan Bay is a very accessible (though ruined) double-court tomb in Carbad More. At either end of the remains of a cairn are the remnants of two almost circular courts, each leading into its own segmented gallery. The larger court is about 8 metres in diameter.
~ 800 metres NNE of Carbad More, immediately E of the same road, in Rathfranpark (G 183 332), are the remains of a large wedge-tomb built of large, smooth boulders averaging 1.8 metres high. At the E end, between 2 rows of double-walling, is a dump of stones from a nearby stone circle now, alas! entirely removed. The gallery is over 3 metres long and 2 metres wide. Two low jamb-like stones 1 metre apart, set inside the lines of the gallery walls, mark the entrance.
~ 100 metres further on (900 metres NNE of Carbad More) is another ruined wedge-tomb in Rathfran South (G 184 335).
~ 1 km ENE of the Breastagh stone, near the top of the hill, are two stone circles 100 metres apart, one of which has 13 stones and is 15 metres in diameter. The smaller circle, 7 metres in diameter, may be field clearance.

~ 2.2 km N by E, in Carrowtrasna (G 189 363), is a fine stone some 3.5 metres high, standing at the end of a bank or dyke.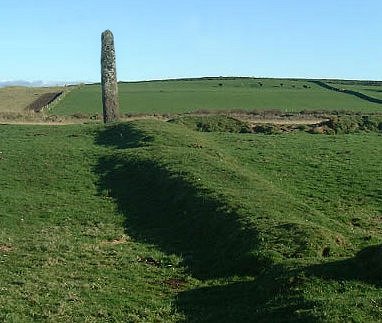 ~ 3.5 km NE, near the top of a hillock in Carrowsteelagh (G 202 366) is a smaller, slenderer standing-stone.
---
Carrowcrom: Wedge-tomb
G 314 162
Sheet 24
7.2 km ESE of Ballina and 4.8 km NNE of Attymas, in a field to the left a track leading to Brohly Lough from a by-road from Bunnyconnellan to Beaufield, this accessible tomb is very well preserved, with most of its wedge-shaped cairn still present. Two roof stones completely cover the 3-metre long gallery, one of which has recently been supported by a steel bar. The taller, front (SW) end of the tomb has a façade of 4 well-matched orthostats 3.7 metres long, and, at the entrance, what seems to be a sill-stone. Much of the outer-walling of the gallery is visible especially at the E side. There is no portico. The inside of the gallery has some dry-stone walling above and between the orthostats.
500 metres NNW in the same townland (G 308 170) are two standing-stones, one massive and the other low, some 90 metres apart.

~ 6.5 km NE in Carrowleagh, G 364 210 - (GPS: G 36393 20978) is a hard-to-find and almost-intact court-tomb, about 800 metres ENE of an untarred by-road about 400 metres S of the Owencam river. Local guidance is essential, for, covered in vegetation and still embedded in peat, it is indistinguishable from the landscape. It is best to go on a Saturday (in summer or autumn), when there will probably be someone cutting peat nearby. The court is still mainly buried below the peat and is not visible, but wo chambers of the gallery are accessible, covered by two very large overlapping roofstones which are supported on up to three tiers of corbelling packed with small stones. The corbels in turn rest on four orthostats on the N side and three on the S side. The interior of this sepulchre is most impressively constructed and shows some of the detail missing from most surviving tombs of this kind.
~ 1700 metres NW of the court-tomb, and about 600 metres N of the Owencam river in a conifer plantation is a wedge-tomb: G 352 222 (GPS G 35226 22243). It is also embedded in peat and even harder to locate. Portico, double-walling and 2 roofstones survive. As with the court-tomb, the chinkless chamber, mostly surrounded by peat, gives a rare impression of the snugness of these homes for the dead.
~ 3 km SW in Corrower (G 295 143) behind a farmhouse but visible from the road is a fine, thin standing-stone some 2.8 metres high and one metre wide. An ogam inscription said to read MAQ CERAN AVI ATHECETAIMIN was added later.
~ 8 km NW is a megalithic kist on the edge of Ballina town, known as "The Dolmen of the Four Maols", beside a by-road running SW towards Lough Conn. One of the side-stones has been removed (the fourth is 5 metres away) and the massive capstone has moved slightly. On one side are what seems to be a perfectly arranged hexagon of cup marks, but these are simply where a sign used to be attached.
The kist used to offer unparalleled views of the railway freight yard below - but now the scene has the rooftops of buildings that have been built around the knoll upon which this monument stands. The knoll has actually been drastically cut away to provide more space for building, so that the rooflines are just metres from the little enclosure around the kist!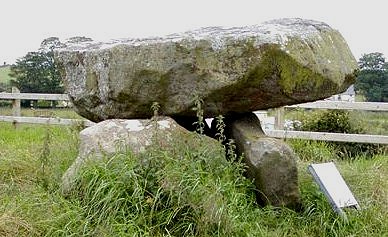 ~ 8 km NE in in Prebaun (G 331 061) is a collapsed portal-tomb whose capstone is about 4 metres by 2 and 40 cms thick, and rests on several collapsed stones. One portal stone protrudes from under the capstone, broken off at the base, not dug up: the stump can clearly be seen. The site is higher than for most portal tombs and affords splendid views, especially to the NW.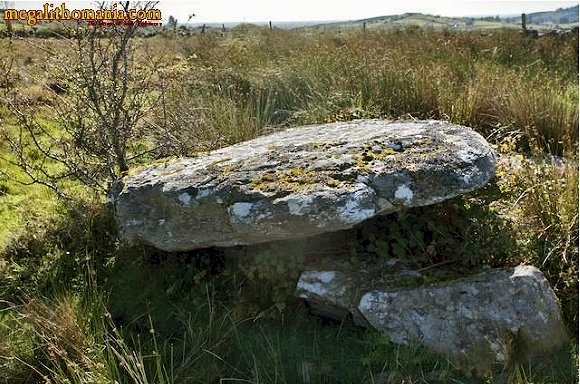 ~ 16.4 km NE in Carrowreagh, county Sligo, 3.2 km NW of Aclare, at a height of about 250 metres and extremely difficult to locate across featureless bog lie two court-tombs embedded in the peat. The more southerly (G 384 124) is probably the best-preserved in Ireland. Entry can be made only through a small hole in the roof, which is corbelled with high-pitched slabs in two and three tiers over low orthostats. As with the tomb in Carrowleagh in county Mayo (some 9.6 km NNW) the court is entirely concealed by cairn and bog.
---
Carrowkilleen: Court-tombs
G 083 168
Sheet 23
Less than 3 km W of Crossmolina, to the S of the road to Belmullet and W of a farm, a very extensive cairn, 56 metres long, contains three separate tombs. An incomplete, elongated court at the E end opens into a two-chambered gallery. To the W, and on a slightly different axis, is another tomb with a (transeptal) side-chamber off the S side of its large first chamber, leading into a mass of cairn material which may hide other features. Farther again to the W, and on the same axis, is a three-chambered gallery which may have a forecourt facing W. The cairn would seem, therefore, to house a double-court tomb which was extended by the addition of a single court-tomb to the E, containing the (not necessarily contemporaneous) transeptal chamber.
In the same townland is a fine pair of massive standing-stones.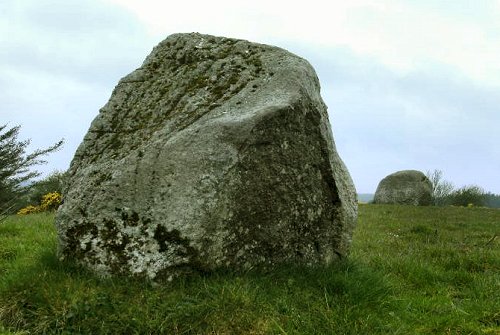 ---
Cong: Multiple-bullaun
M 149 543
Sheet 38
Behind a house at the SW corner of the bridge at the E end of the town is Leac na bPoll ('Slab with Hollows'): a fine multiple-bullaun with three large basins up to 45 cms in diameter and half as deep. Domestic refuse (a serious problem all over Ireland) may have to be cleared from the slab-boulder which is protected by a concrete surround.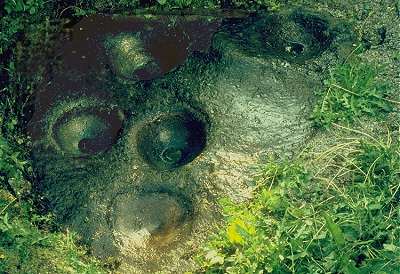 ~ Just over 1 km NE of Cong (M 162 560) is the best and most accessible of a little isolated group of stone circles, to the E of the R.345 in Glebe townland. In a too-small enclosure to the SE of Deanery Place some twenty stones stand picturesquely, the tallest being 120 cms high, and the lowest, at the opposite side, just 75 cms.
To the E n the same townland (M 163 561) is a 'variant recumbent' stone circle over 16 metres in diameter with a low kerbed cairn located in the centre of the circle, which has been erected on on an artificial platform. About twenty of some thirty stones remain. The recumbent stone and its two flankers are situated on the northern side, opposite the sole remaining portal stone. At the opposite side of the ring, a single portal-stone remains - a fine example of the local decayed limestone with many natural bullaun-like hollows which doubtless imbued it with magical power.
click for more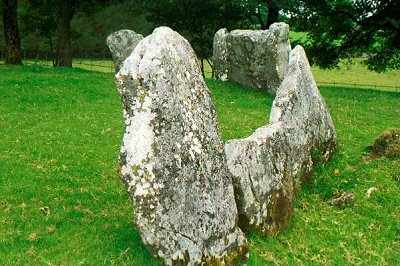 100 metres SE in Tonaleeaun is a ruined circle with cairn by a group of hawthorn trees, while in the next field to the W at Nymphsfield is another ruined circle.
~ 2.5 km NW at Dringeen Oughter (M 132 572) is a limestone standing-stone 1.8 metres high in a very pleasant setting in a dip with restricted views. The W face is smooth and straight while the E side is hunched.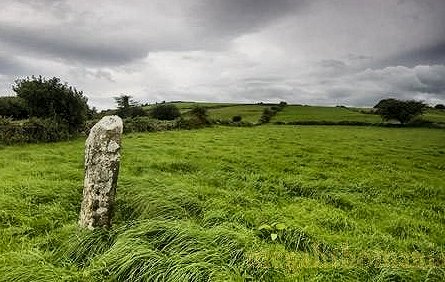 ~ A little over 2 km W by S in Cregdotia on moss-covered and treacherously-fissured limestone pavement (M 129 555) is a well-preserved wedge-tomb ("Toberbiroge") with much of its cairn remaining up to roof-height. The chamber has been opened by splitting the roofstone, which is supported on two massive side-slabs and a single back-slab, and it is totally separated from the debris-strewn antechamber. The fine lintelled entrance is intact but is missing its door-slab.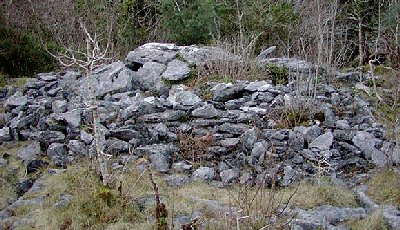 ~ The area between Cong and Tuam is rich in 'ring-forts' (defended farmsteads), stone forts and souterrains. And in Ballymacgibbon North, 4.8 km E of Cong, 300 metres N of the Cong-Headford road, up a grassy lane, is a large cairn of stones 30 metres in diameter and 7 metres high, which probably contains a passage tomb. The little tower on the top is, of course, not original!
---
Cregduff: Ritual enclosure or inaugural site
M 268 580
Sheet 38
About 50 metres N of the Shrule-Kilmaine road (N.84), this interesting monument consists of a central saucer-shaped area over 30 metres in diameter, surrounded by two double banks and deep ditches. On the outer edge of the outer bank 135 low stones (about 12.4 metres high) are set. Several have tumbled, but they are best preserved on the S side where they are one pace apart. Originally there would have been as many as 340 stones. The imposing, wide entrance is on the E side, and the whole structure is about 90 metres across.The circle of stones and the unstrategic siting of the enclosure strongly suggest a ceremonial rather than a defensive function. It was, regrettably, dug into by treasure-seekers at the end of the nineteen-sixties.
---
Dooncarton: Stone circle
F 812 382
Sheet 22
This little circle lies on a lower slope of Barnacuille surveying Broad Haven and the cliffs of Rinroe on the promontory of Benwee Head. There are six stones left: five are 1.4 metres high and pointed, while the sixth is a taller, rectangular outlier. 200 metres W are the indefinite remains of a court-tomb. The lore associated with it can be read on the Voices from the Dawn website.
~ 1.6 km E by N, in Rosdoagh (F 827 383) is "The Druids' Circles" - in fact, a large court-tomb whose unimpressive remains consist mainly of a kerb of an almost-circular cairn some 18 metres in diameter, and sixteen surviving stones of a once-impressive central court. The site with fine views has been ruined by the usual hideous bungalow plonked right beside it.
~ 22 km SW at the highest point of the SW end of the dreary Mullet Peninsula (F 606 197 ?) in Tonadoon or Letterbeg not far from a Promontory Fort, is a bogus stone circle whimsically known as St Dervla's Twist, and erected as part of the Mullet Sculpture Trail in 1989.
---
Doonfeeny or Dunfeeny: Standing-stone and Promontory-fort
G 085 398
Sheet 23
3.2 km NW of Ballycastle, to the SE of a track running SW from the coast road, this impressive square-sectioned, slightly-leaning pillar stands over 5 metres high. It is a fine example of a pre-Christian monument which was Christianised some time before the 12th century - by two crosses (one with birds' head designs) at the bottom, and by monastic settlement. From it fine views can be had of Doonbristy, a stack (or headland cut off by the sea) on which are the remains of a promontory-fort.

---
Drumcollagh or Drumgollagh: Court-tomb
F 799 049
Sheets 22 and 30
In a field 90 metres SW of a by-road, this fine, interesting and well-preserved tomb is built of large stones up to 1.8 metres high. The west end of the gallery's rear chamber is covered by a large roofstone (with three alleged cup-marks on its upper surface) some 3.6 by 2.4 metres in size. At the E end a short antechamber leads through massive jambs to the first chamber, which is blocked at the W end by a large septal slab. This fits flush with the jamb-stone on the S side, except at the bottom where there is a triangular opening (for bone-touching ? a spirit-hole ?). At the top of the N side there is a corresponding (artificial ?) concavity in the stone. The dry-stone walling at this side of the slab is not original, for the tomb was used as a calf-shed and covered by a pitched roof of sods and rough thatch, the base of which was still visible in 1978 on the N side of the gallery as a low bank on top of cairn-remnants. Two displaced stones at the front of the tomb are probably lintels. The photo shows the view from the rear.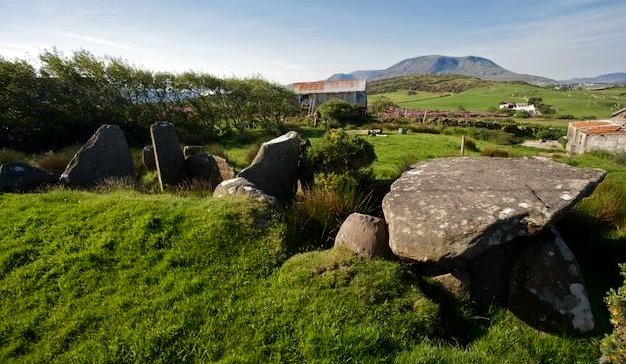 ~ 1.5 km NNW in a field to the SW side of a track in Kildun are two standing-stones, one of which was Christianised with a false-relief cross-pattée in a circle on the W face.
~ 2.5 km due North in Castlehill (F 797 074) is a wedge-tomb, still set in its small cairn. A rhododendron grows out of the ruined gallery which is 3 metres long, and one roofstone remains in place, while others lie about. 100 metres SE is another tomb with no cairn.There is some double walling left and the roofstones are still in place, resting on top of a fill of cairn rubble. The sides of the gallery (1.5 metres wide) are formed by three slabs, each about 1 metre square.
Built into a ruined building on the opposite side of the road is what could have been a standing stone before it was inserted as a lintel above the fireplace.
~ Just over 15 km W by N in Keel East on the slopes of Slievemore on Achill Island is a full-court tomb (F 646 074) immediately E of the abandoned village of Slievemore, with an almost circular court over 6 metres long by 5 metres wide. This leads through well-matched jambs into a gallery which had two (or maybe three) chambers. The straight-sided cairn is nearly 20 metres long and 10 metres wide, and points N straight into the mountain. In 2003 this funerary monument was entirely enveloped by gorse-bushes.
400 metres NE of this tomb (F 649 076 - best accessed by a signposted steep path from the road below) is another full-court tomb also aligned N-S, but with a much narrower court entered through a narrow passage between transverse orthostats. A massive capstone still remains at the back of its (two- or maybe three-chambered) gallery, and corbelling can be seen on its W side. The S end of the cairn is buried in bog. From this tomb are marvellous views.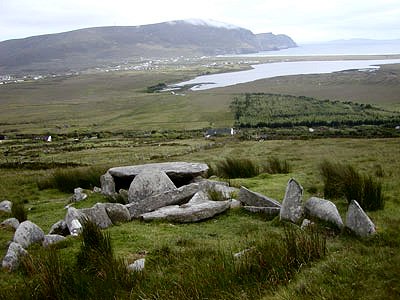 click for a painting of the tomb by Tommy Barr
Just beyond the W end of the deserted village is a heavily-quarried quartz outcrop. It is huge today, but originally it must have been massively impressive. One cannot help but think that this may have been a place of great power and sanctity for the early inhabitants of this island.
~ 4.8 km W of the court-tomb at Keel East in Slievemore (F 602 076), just a few metres E of Annagh Strand, is a roofless portal-tomb, which requires some effort to get to. Two uprights survive (probably a portal-stone 2 metres high, and the door-stone) plus two large slabs from the chamber, one of them (perhaps the roof-stone ?) displaced.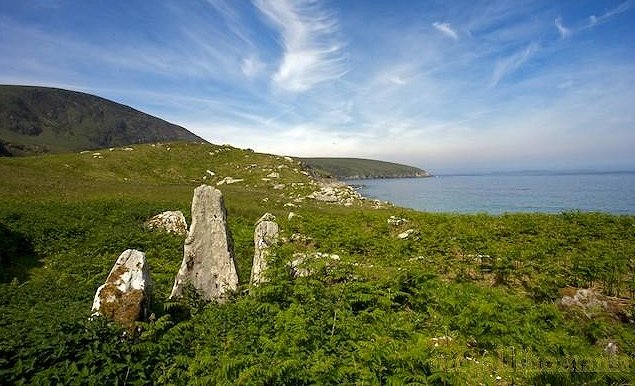 ~ In the same townland of Slievemore (F 594 079 and not marked on the map) are several ruins dating from prehistoric to modern times. One seems to be a very small and almost complete wedge-tomb still largely covered. There is also an arrangement of stones which might be the remains of a tomb-gallery. A fine dry-stone clochán or stone hut stands nearby, as well as the shell of a modern house. Just below the site is Lough Nakeeroge, a beautiful lake that is separated from the sea by just a few metres. 300 metres SW are three stones forming an arc, which may be the remains of a stone circle.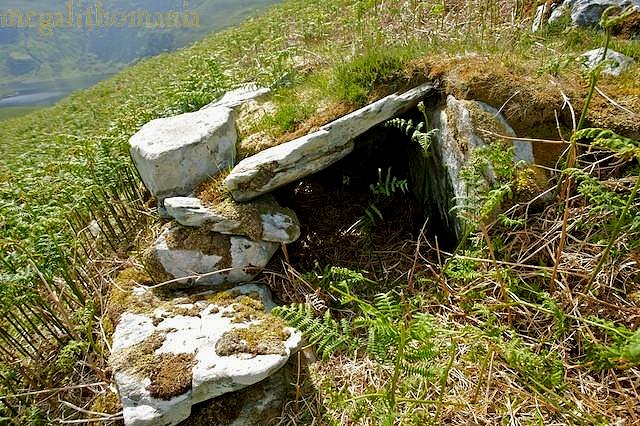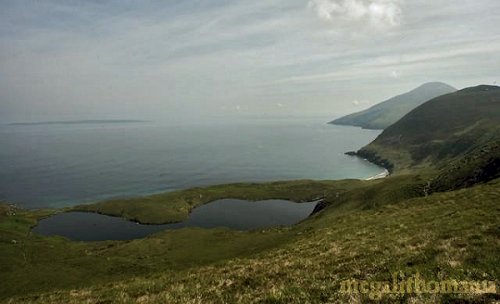 There are other tombs on the island, including another court-tomb in Dookinelly (F 655 069), and a remote one (more easily approached in a boat across Blacksod Bay) at F 601 076. The remains of a portal-tomb in Doogort West (F 652 072) which, like the tombs of Keel East, faces up into the mountain side. All that now stands is one portal stone over two metres high, and its accompanying side-stone, set slightly outside the line of the portal stone. Another slab rests against these and could be the stump of the other portal stone or a bit of the other sidestone.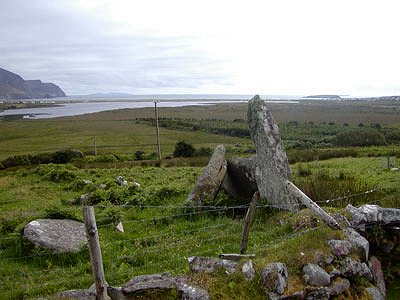 ~ On the way to the Slievemore tombs, S of the R 319 and 7.5 km ESE of the portal-tomb (12.5 km W by N of Drumcollagh), is an overgrown crannóg in Loughannascaddy (F 673 053), with indications of a submerged causeway or stepping-stones.

---
Rathlackan: Single-court tomb
G 166 388
Sheet 24
Situated just S of a conifer-plantation and less than 200 metres to the W of a by-road, this tomb emerged recently from the peat-bog which preserved it. As one might expect in county Mayo, it is an exceptionally well-preserved example of a court-tomb, retaining almost the entire cairn, though the roofstones are not in situ. Even a thin door-stone (moved to the left) has - most unusually - survived. A low stone sits in front of the entrance, whose massive jambs are flanked by the two quarter-circles of the almost-complete court. The low, three-chambered gallery is nearly 6 metres long. The tomb was recently discovered only because a standing-stone was investigated and found to be a tilted roofstone. Four men and three women lifted the slab with wooden poles and ropes and replaced it in about an hour!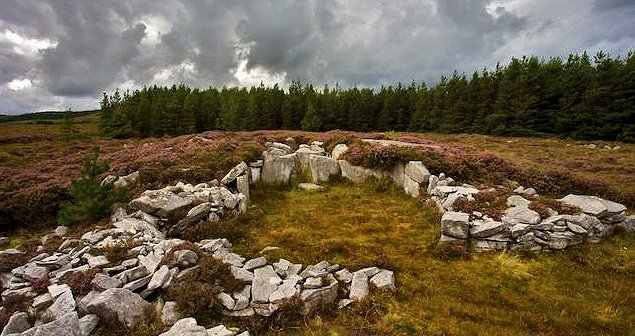 The court faces just S of E. Nephin mountain dominates the southern horizon, so one would expect the tomb to have a N-S axis. But visible over 50 km to the E - across headlands and Sligo Bay - is Knocknarea with 'Maeve's Cairn' on top.
The tomb was excavated in 1990 as part of a megalithic complex of seventeen 'house-sites' of various shapes and sizes and eleven megalithic tombs scattered throughout a pre-bog stone-walled field system in an area of four square miles (almost 10.4 square km). A small square neolithic house was found, and this was thought to indicate a function connected with the rituals of burial within the tomb rather than as a 'normal' domestic dwelling.
It is a great pity that the roof-stones were not replaced, for it would have been easy to do so, and the effect would have been impressive.
~ 6 km SSE is the wedge-tomb at Rathfranpark (see under Breastagh, above) and 800 metres SSW of it, another court-tomb at Carbad More.
~ 5 km ESE at Ballinlena (G 213 373) in an overgrown graveyard landward of the ruined early dry-stone St Cummin's Church with charming and fragile E window, is a mound marked by two tall pillarstones (one of them Christianised with a Latin cross), between which is a fine early cross-slab.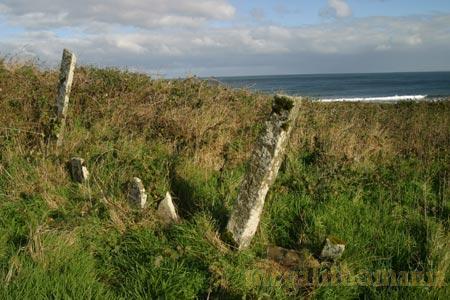 Nearby is an early sun-dial and another slab. There was once a celebrated 'cursing-stone' (Leac Cuimín) which was owned by a local family whom one paid to perform a curse on the stone against whomever one had a grievance. St Cummin's Well is in a small enclosure to the N. The various stones are now part of a pattern or túras, reminiscent of Glencolmcille in Donegal where some of the stations of its túras are actually megalithic sites.
~ 5 km SSE is Breastagh Ogam-stone.
---
Rusheens West: Triple Bullaun
M 555 943
Sheet 32
10 kms E of Knock Airport, on a large boulder (moved ?) against a wall is a fine triple bullaun.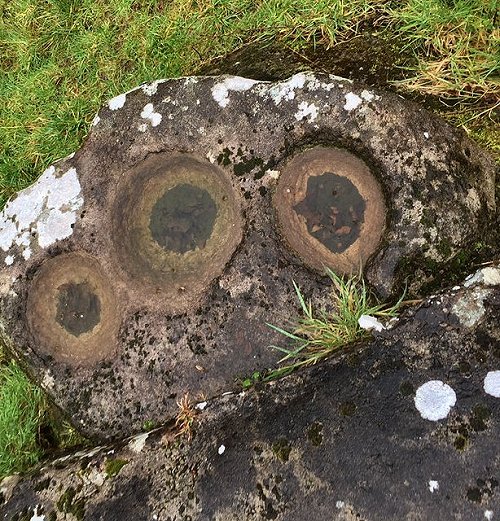 A short distance due S of it in Rusheens East and linked with it by a path are an ogam stone and dried-up holy well on a low mound. The inscription on the stone reads ALATTOS MAQI BR...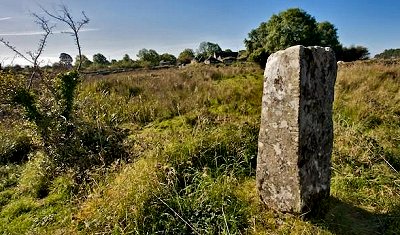 ---
Srahwee: Wedge-tomb
L 793 746
Sheet 37
9.6 km S of Louisburgh, immediately NE of a by-road and Lough Nahaltora (Altar Lake), this well-preserved sepulchre was in a very beautiful situation by the roadside before a tasteless bungalow was plonked nearby. A single large roofstone covers most of the main chamber of the gallery, which is 4.2 metres long. Double-walling, a fine large septal slab, and traces of the cairn survive. As 'The Altar Well' (Tobernahaltora) it was formerly venerated as a holy well. It is now part of the 'Clew Bay Trail'. Interestingly, Croagh Patrick, to the north, is obscured by a rock-outcrop.

~ About 2 km SE (L 814 732), just N of the road, is a handsome standing-stone which affords an impressive view of Croagh Patrick to the NE.
~ Nearly 4 km WSW is Aillemore court-tomb.
~ 5.3 km WNW, in Cloonlaur (L 744 758), is a pair of standing-stones just 100 metres from the Atlantic ocean. The larger is an impressive 3.6 metres high and 1.3 metres wide, while the smaller one, 7 metres away, is only 1.4 metres tall. Could it once have had one or more stones in between, in descending height ? They align on the highest point of Inishbofin, a small island 11 km to the S.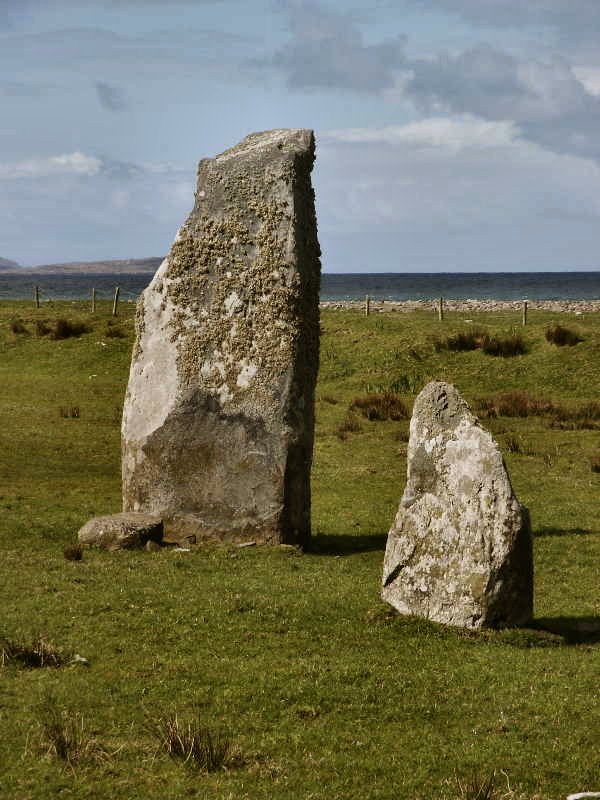 ---
Turlough - Alignment
M 204 937
Sheet 32
In a sloping field known as Gortnafolla (Field of Blood), N of the N5 approximately 5 kilometers NE of Castlebar and close to the village of Turlough, is row of three low, but attractively weathered and pitted, stones, oriented NE-SW. The tallest is 1.3 metres high. There are many standing-stones in the area, and a fine, relatively squat, Round Tower in the village, which also boasts the Museum of Country Life.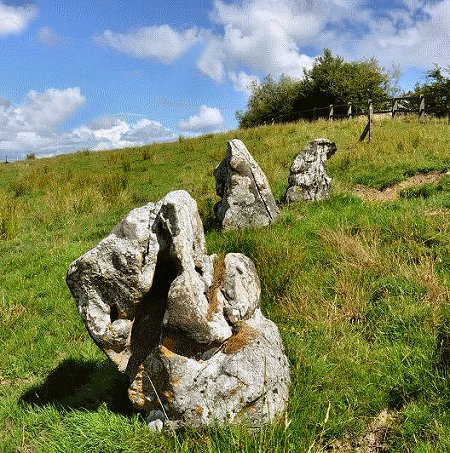 ---
---