Aghanaglack: Double-court tomb
H 096 435
Sheet 17
Approached by a motorable track through Ballintempo Forest, this tomb has been used (like much of the Irish countryside) as a rubbish-dump in the past - but now looks pretty in a sylvan glade. Two twin-chambered galleries about 6 metres long share a common backstone. The NE court is horseshoe-shaped and set askew to point E.
~ 6.8 km E, in Corraderry Brock (H 031 437) are the remains of two concentric stone circles (?) on top of a knoll overlooking Lough Macnean Upper to the S, making the knoll look like a cairn. The outer circle, 14.5 metres in diameter, is composed of eight uprights from 20 to 90 cms high. The inner circle, 6.5 metres in diameter, comprises five uprights and one fallen stone, from only 15 to only 37 cms high.

---
Annaghmore Glebe: Passage-tomb kerb
H 426 200
Sheets 27 and 27A
150 metres SW of Wattle Bridge, like a prehistoric frontier observation-post (overlooking three counties) on top of a drumlin (glacial hillock), 'The Druids' Temple' is a kerb of some 67 stones, some 35 metres in diameter surrounding a destroyed round cairn. Originally, the stones (some of them massive and up to 2 metres high) would have been contiguous as at Tops passage-tomb in county Donegal, but most have now fallen. It was described in 1712 as "a mighty heap of stones, the bases encircled with very large stones standing on end...has been removed to pave our ways... Under the cairn were some urns found in stone coffins." From it there is a fine view of 19th century Crom Castle.
~ 10 km N, easily accessible in Cloghagaddy (H 430 302), is Legaun (Irish liogán = standing-stone), a handsome monolith some 2.3 metres high - but in 2002 entirely covered with ivy.
---
Boa Island (Dreenan): Statues
H 085 622
Sheet 17
Boa Island is no longer an island, and the two famous statues are in Caldragh old graveyard in the townland of Dreenan, nearly 10 km E by S of Kesh. The more famous of the statues (marked Carved Stones on the map), is a double-sided figure of two beings in typical 'Celtic' squatting mode, carved back-to-back, the E side being male with a pointed penis beneath the stylised crossed arms (all carved in high relief), and the W side being female, with a protruding tongue. There is incised zig-zag decoration between the two heads, which may represent hair, and both figures have a band or belt at the base of the torsos.
click for more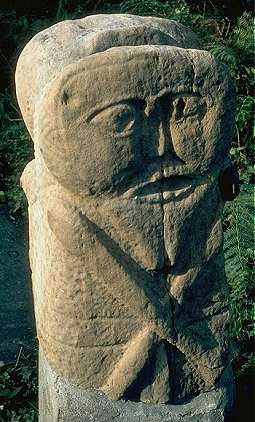 the male side of the double figure shortly after cleaning
The other, smaller, statue came from Lusty More Island close by, and was perversely known as "The Lusty Man" even though it is genderless. The fact that only one eye is fully carved suggests that it may represent the Badhbha or Divine Hag, who latterly became the Caillech Bhéarra, and, like the Norse sky-god Odin, was blind in the left eye. The name Boa is an anglicisation of her name. This statue is carved in light relief, and the figure seems to be holding something. The protruding tongue of this figure and the W side of the larger statue is a symbol of divinity (cf also the Greek Gorgons) also associated with Odin, and in mediæval times became a symbol of suffering, damnation - and concupiscence or lust.
These figures are part of a vast iconographic web and provide the archæological and 'Celtic' fringe with plenty of opportunitiues for selective interpretation. The date of the statues is probably no earlier than the 8th century (and maybe rather later). It is remarkable that they should have survived even in this formerly most remote part of Ireland, especially since the other famous Fermanagh figures on White Island, to the S, are so evidently Christian. They have not, like many other Irish monuments, been vaguely Christianised with fanciful saints' names.
On my most recent visit (July 2013) I noticed that money had been deposited in the groove between the two back-to-back heads. This is a very recent practice..
~ 14.5 km SE are other carved stones at Killadeas.
~ 10.4 km N by E is the court-tomb at Tawlaght, county Donegal.
~ 14.4 km NE is Drumskinny stone circle and row.
---
Breagho: Megalithic tomb ?
H 266 487
Sheet 18
click on the thumbnail for a high-resolution picture

On top of a low hill, commanding fine views, this picturesque group of 7 stones (ranging from 75 cms to over 2 metres high) might be the remains of a stone circle, or of a court-tomb - or something else.
~ 5 km ENE at Ballyreagh, less than 800 metres SW of Lough Mulshane, is a double-court tomb (H 313 506) whose 33-metre cairn encloses 2 twin-chambered galleries featuring sill-stones and septal slabs. A house was once built against the N wall of the E gallery.
~ 10 km NE, scattered over various townlands on Brougher Mountain, are several standing-stones and groups of megalithic remains. According to the megalithic survey there is a group of 5 stones not marked on the map at H 350 517, which may be the remains of a tomb; and (70 metres SW of a standing stone, two stone circles and a stone-row marked on the map) a standing-stone 1.7 metres high with a row of small stones and remains of stone circles at H 358 529, with more alignments and stones including the remains of a wedge-tomb just 100 metres S.
The only stone I have so far seen is in Glen townland (H 348 513): a handsome slab 1.3 metres high by 1 metre across which looks like the end-stone of a megalithic chamber.
---
Dog Little: Court-tomb
H 020 507
Sheet 17
In the midst of the modern Big Dog Forest, "Skagh(a)lea Cairn" is a fine, almost intact long cairn of limestone boulders, some 20 by 17 metres, and two metres high. At the SE end, eleven low, mossy orthostats remain of a three-quarter court, wineglass-shaped, together with 4 stones of a frontal façade, and a very large stone which blocks the entrance. The gallery is, as originally intended, covered by cairn-material.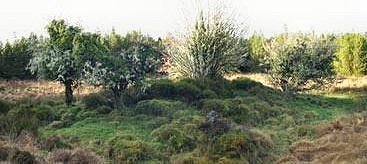 ---

Drumskinny: Stone circle and stone-row
H 201 707
Sheet 12
click for a larger picture

There are many examples of stone circles in high bogland in N Fermanagh, South Derry and Tyrone, but this is one of the most accessible and charming, despite the surrounding fence and inappropriate gravel - white quartzite chips would be much more in keeping with tradition. Measuring 13 metres in diameter, it originally had 39 upright stones up to 1.8 metres in height, with a probable gap to the NW where there is a small carefully-constructed cairn of stones contained within a kerb almost 4 metres in diameter. Stretching S from the cairn is a 15-metre-long alignment of 23 small stones.
~ 1.5 km S in Montiaghroe, just E of the road (H 193 694) is a fine three-stone row, whose tallest member is 1.8 metres high.
SE of this (H 194 693) on a boggy south-facing hillslope, is one of a group of 4 ruined stone circlesin this townland. The circle comprises 24 limestone boulders protruding above the bog surface to heights varying from just 5 centimetres to 75 centimetres. They form the almost complete circumference of a circle some eleven metres in diameter. To the NE are two tangential stone alignments. Farther north (almost due S of the three-stone row) is what looks remarkably like a cyclopean court-tomb on the edge of a rocky scarp.
There are more stones on the other side of the road at H 191 693, and at H 197 691 are two massive pillars with a small stone out of line some distance away.
~ 5.6 km ENE, in county Tyrone, is a court-tomb at Ally (H 258 725), above a car-park just NE of a water-treatment plant by the main road in Lough Bradan Forest. A large horizontally-split lintel sits on top of the entry jambs, whose forecourt and entrance are obscured by the circular wall of a more modern sheepfold. There are 2 chambers, and beyond them a lateral chamber with gabled backstone, corbel stones and displaced roofstone. One stone of the front chamber has several holes and depressions which may be more than solution-pits.
~ 10 km SSE, on the N side of an E-W ridge (H 233 615) which is covered in blanket bog in Keeran, is the 6.5 metre gallery of a wedge-tomb with no trace of a cairn. A capstone is still in place at the E end, while a single surviving upright at the W end may have formed part of the entrance.
~ 8.8 km W by N, in county Donegal, is Tawlaght court-tomb (H 113 724) some 400 metres E by S of Lough Nashannagh, with a fine lintel spanning the low entrance to the two-chambered gallery. This tomb was intact at the end of the 19th century, but like perhaps scores of Irish prehistoric tombs it was ransacked by "sporting" gunmen who removed the roofstones. This of course also happened in France during the second World War, when the Resistance maquisards were in hiding and hungry.
~14.4 km SW are the Boa Island statues.
---
Greenan: Wedge-tomb
H 172 292
Sheets 26 and 27A
This atypical wedge-tomb survives best at the 'back' end, where a roofstone remains in place above the main gallery, and another one has fallen into it. The front of the sepulchre faces westwards up the steep slope straight into Cuilcagh Mountain, while the relatively high E end commands panoramic views to Upper Lough Erne and Benaughlin. About 4 metres E (down the slope) some kerbstones are incorporated in a ruined field-wall. To the south there are two additional chambers, possibly added later, that equal the main tomb in size. One of these chambers is filled with cairn material. Much double-walling exists down both sides. Separating the unroofed portico from the main chamber is a low sill stone, whereas the two subsidiary chambers are separated by a high septal slab.
~ 3 km N, just N of a track and between two streams in Teesnaghtan (H 193 306) is a small standing-stone, 1.5 metres high. A small cross has been inscribed near the top of the NE face in a crack in the sandstone. 50 metres NW is a small round cairn.
~ 10 km E by N in Aghakillymaud (H 273 310) is a court-tomb with well-preserved cairn amongst which can be discerned a partially-exposed jamb and a pair of portal-stones at the NE entrance. This is one of a group of megalithic remains around Knockninny, on top of which is a fine cairn.
---
Killadeas: Cupmarked slab, Phallic stone and holed stone
H 205 540
Sheet 17
In the graveyard of a Protestant church (in Rockfield townland) on the W side of the road, a large slab, 1.5 metres high has at least 10 deep cup-marks on one face, while the other face has been Christianised with a Greek cross on a bifurcated stem. Cup-marked stones like this (both natural and enhanced) are a feature of counties Leitrim and Fermanagh.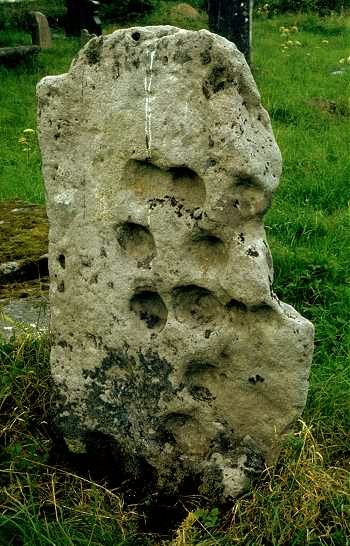 Nearby is a small, broken phallic pillar and a perforated stone half-embedded in the ground. Near the graveyard wall is 'The Bishop's Stone' with an ecclesiastic on one side and a human face above interlace on the front edge. This site - like White Island and Boa Island farther north, with their carvings both 'pagan' and Christian in Christian contexts - is interesting for its very obvious overlap of 'pagan' and Christian. The cup-marked stone looks very much like a multiple-bullaun, Christianised and set on edge: compare the site at Killinagh in county Cavan. Many standing-stones and ogam stones in Ireland were latterly Christianised, as were some menhirs in France. Fermanagh and Leitrim were of course, until the last subjugation by the English, the most inaccessible and culturally conservative part of Ireland. Both counties even until recently had a kind of remote or otherworldly feeling to them.
~ 14.5 km NW are the Boa Island statues.
---
Killy Beg: Wedge-tomb, Standing-stones, etc.
G 982 542
Sheet 17
The grid-reference is for a well-preserved wedge-tomb in a group of megaliths lying to the W of a track running SE from a by-road close to a wind-farm. The first monument is immediately to the right of the track: two stones, 2.8 metres apart looking like two halves of a split limestone boulder, which are probably the remains (façade cornerstones ?) of a large tomb which would also have been aligned NW like the other tombs nearby. On the NW face of one are natural vertical grooves. A tree has grown between the stones, which overlook the wedge-tomb, 200 metres ESE.
It has an almost complete rectangular gallery, 5 metres long and divided into two by a septal slab, facing NW along the little valley below. The gallery, the backstone and the walls are buried quite deeply into the remain of the cairn. Parts of the double walling can also be seen. Inside the chamber is a fallen roof-stone one of whose corners rests on a side-stone. The NW end is blocked by a septal stone & flanked by a pair of portals, which, with a pair of lateral slabs, form an antechamber - off which is a small rectangular chamber on either side.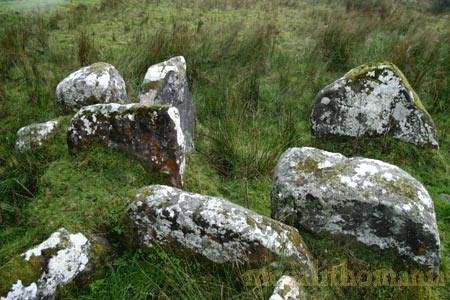 ~ 26 metres S are the remains of another megalithic structure which has been described as the vestiges of a stone circle or a cairn-kerb.
~ Nearby to the NW is another wedge-tomb in good condition, but with smaller gallery, buried within the remains of its cairn and aligned to the NW. Two stones of the façade still front the monument, but there is no portico. Set immediately behind these stones two large jambs define the entrance.
On the other side of the track, nearly 500 metres SE of the wedge-tomb is another, ruined wedge-tomb, 35 metres S of which are (allegedly) more remains comprising four widely-spaced earth-fast boulders which are surrounded by many other displaced stones.
The whole complex is overlooked by the wind-farm.
---
Kilrooskagh: Portal-tomb
H 062 040
Sheet 26
About 200 metres N of the Belcoo-Garrison road, overlooking Lough Macnean Upper, this portal-tomb must have been spectacular before its 3 x 2.4 metre capstone collapsed. Only three other stones survive.
click for another view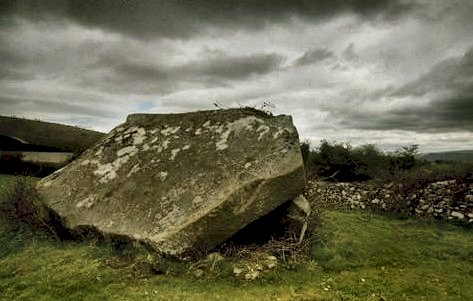 ~ 2.3 km ESE at Drumcoo (H 083 392), tucked away in the fold of a hill behind a hedge on land owned by Mrs Bernadette Ferguson (who will happily guide the visitor) is one of the stones known as Crom Cruaich (see Killycluggin, Cavan). It is a tall, thin limestone slab 2.2 metres high, with a natural groove and faceting on the N face vaguely suggestive of a girdle or belt and legs. Despite the local lore suggesting that the stone walked from Killinagh across Lough Macnean Upper in county Cavan, this stone looks very like a portal-stone of a destroyed portal-tomb, facing NE, whose capstone fitted against the sloping top of the stone.
~ Just over 4 km ESE, 120 metres SSW of Templenaffrin old church (H 101 388) and beside a 'Fairy Thorn' tree, is a large, flat-topped boulder over 1 metre high and square. with three massive bullauns. The largest is over 35 cms in diameter and 20 cms deep. Another seems as if the bullaun was ground into the bottom of an earlier one. There is also a shallow depression that might conceivably be the beginning of a fourth basin.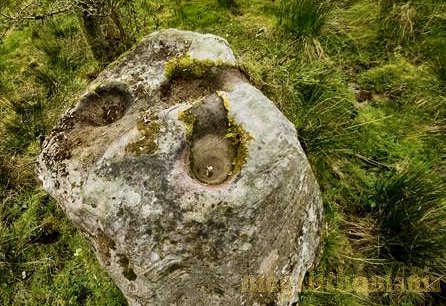 ~ 6.5 km SE (H 107 355) is a court-tomb at Clyhannagh whose 19-metre long gallery is distinctly kinked - suggesting that a two-chambered megalithic kist was enlarged by the addition of two more chambers and a forecourt - or that a single-court tomb of 2 or 3 chambers became a double-court tomb of 2+3 or 3+2 chambers, whose shared backstone is now (like the courts) missing. A few metres to the E (H 106 355) is a sandstone slab propped on a boulder, bearing one cup and ring and many other hollows natural, artificial or enhanced.
~ 7.5 km SE (H 1074 3048) in a boulder-strewn field in Killykeeghan, 15 metres S of a stone enclosure, is a rounded limestone boulder with two deep cups - one with a surrounding ring, the other with an arc. A third small cup has a penannular ring. Other hollows in the stone are probably solution-pits.
---
Ratoran: Stone-row
H 326 465
Sheet 18
A short distance S of the road from Enniskillen to Tempo are four stones of a handsome five-stone row aligned E-W, whose largest is 1.3 metres high. Apparently there was a fifth, larger, perforated stone known as "The Wishing Chair", which was destroyed in the first half of the 20th century.
~ 2 km ENE in Pubble (H 346 468), on top of a low hill cut through by the road to Lisbellaw, are "The Doon Stones", two stones placed one on top of the other, with Bronze Age designs on contiguous faces. The upper face of the lower stone, which is 1.1 metres high and 1.8 metres long, bears many cup-marks, and has a large cup-mark on each of its other 3 sides. The now-almost-invisible lower face of the upper stone (1.5 metres long) has a design of spirals and a circle.
~ 1.6 km WSW in Mullyknock on the summit of Topped Mountain (H 311 457) is a conspicuous multiple-kist cairn (30 metres in diameter and 4 metres high) which was excavated in the 19th century. This is signposted as a viewpoint and has a path leading up to it.
~ 3.2 km SW on the slopes of the appropriately-named Cloghtogle Mountain (Cloch Tógala = raised stone) in Coolbuck is a wedge-tomb (H 310 439) with a chamber nearly 8 metres long in a well-preserved cairn smothered with gorse. There are the remains of a stone circle at H 306 436, and some standing-stones, one of which looks very like the backstone of a chamber.
To the NW in Cloghtogle townland, just a few centimetres from a concrete path to a modern house (H 319 442) is "The Druid's Altar", listed as another wedge tomb, but looking like a small kist with a large roofstone.
~ 4 km SSW in Mountdrum (H 308 431, about 900 metres SSW of the Coolbuck wedge-tomb) is a triple stone circle with 'spokes' of radial alignments oriented SE. Between the almost-complete inner circle (or rather oval) about 5 metres in diameter and the middle circle are 12 slabs set radially. One metre outside the middle circle (2 arcs of which survive) are the remains of the outer circle, about 8 metres in diameter. An alignment of small stones runs off radially 30 metres to the SE.
100 metres N are the remains of a wedge-tomb, much of whose cairn is embedded in peat.
The site now has a car-park and information-boards indicating other features of what amounts to a 'megalithic complex'.
---
Reyfad: Petroglyphs (rock art)
H 113 463
Sheet 17
Approached by a motorable track up to a modern bungalow (park in front of the bungalow and go down some steps, then over a stone stile and the rocks are visible to your right), 500 metres WNW of Boho graveyard (which has a fine 12th century cross-shaft featuring Adam and Eve and the serpent on its E face), are 6 stones in a field in front of the bungalow, five of which have cup-and-ring carvings. The largest of them, 3.3 metres long and over 2 metres high, is almost completely covered with the designs, many of them overlapping. On one of the small stones the cups and rings are unusually deep. Some good carvings are on a flat stone which appears to have been broken from a larger one, since one of its motifs is only half there. The engravings are partly obscured by heavy growths of lichen, and are best seen in oblique light on a fine summer evening.
---
---