Aghnacliff: Portal-tomb
N 263 884
Sheet 34
click for larger photos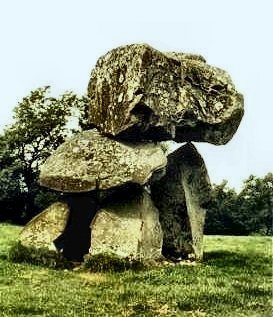 About 300 metres ENE of Aghnacliff church, this startling dolmen has two capstones which from the angle of approach seem to be balanced one on the other. The upper one is the larger, over 3 metres long and 1.5 metres thick, supported both by the smaller capstone beneath and by the one surviving portal-stone which is 2 metres high.

~ 1.2 km NNE in Cleenrah, in a field to the E of a tarred track, is "Dermot and Grania's Bed" (N 266 897), a charming but much less impressive portal-tomb. It has a large single capstone on portal-stones which are (unusually) no higher than the sidestones.
click for larger photos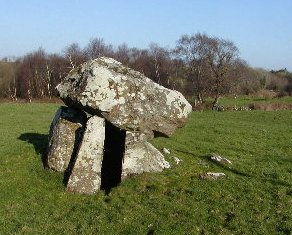 ~ 8.7 km W by S in Birrinagh (N 161 879) is a roofless portal-tomb with nicely-matched portal stones 1.9 metres high and a door-slab a little lower. The capstone was dislodged only 60 or 70 years ago, and now stands upright to one side, looking like a side-stone. Only a back-stone survives, however. Still a lovely megalith, it must have been very fine when the roof-stone was in place, in a beautiful situation at the bottom of a wide valley with low hills in three directions.
---
Cartronbrack: Standing-stone
N 145 625
Sheet 41
5.6 km NNW of Ballymahon, to the W of a by-road, a gable-shaped slab over 2.5 metres high and almost 2 metres wide is packed at the base with one large and several small stones.
~ There are several more monoliths in the area, including two in Glenmore townland, one in a field in front of Glenmore House (1.5 km NW of Cartronbrack), and another near the road two fields S of Glenmore House.
~ 4.2 km W (N 103 625 on Sheet 40) is Corlea Visitor Centre, which is a good model of how to preserve and present ancient 'Heritage' - in this case a criss-crossed network of up to 57 different tracks ranging from Neolithic hurdle tracks to the main attraction: an enigmatic wooden road one kilometre long, dendro-dated to 148 BCE. It is the widest of its kind so far uncovered in Europe, but its purpose remains a mystery.
Though wide enough to take carts, the roadway saw very little use, having hardly any signs of wear upon it. No piles were erected to support the massive structure and it sank below the surface of the bog within 10 years. This adds to the theory that it could have been built for a single or short-period 'ritual' or 'ceremonial' use.
Once the excavations of the site were completed, an 18-metre length of the road's timbers was preserved. A purpose-built centre was erected over the original location and then the trackway was put back exactly where it was.
This centre is not on the main tourist circuit, so there are not many visitors. Money-spinning Newgrange sees thousands daily, but Corlea gets just 6000 during the entire 6 months during which it is open each year.
---
Cloghchurnel: Megalithic enclosure
N 344 838
Sheet 34
In a field immediately SW of a by-road and about 400 metres of the main Granard-Ballinagh road, stand 24 stones, 6 of which are upright, 7 lengthwise, and the rest fallen. They form an ellipse which has been cut by the road, and are of varying heights up to 1.5 metres. They cannot be described with certainty as a stone circle (or as a kerb), and their interest lies mainly in their mystery.
~ 2.5 km SSE, in a field SSE of the road from Granard to Ballyjamesduff is another group of stones in Cartronbore (N 354 813). Of about 16 original stones only 2 now stand erect and 8 are fallen. The best section is on the W side where the 2 stones are still standing. On the S side the stones have fallen and there is a large gap around the northeast section, where there is a pile of boulders - presumably field clearance. A row of three stones runs to the S, suggesting that this monument is indeed the remains of a circle with alignment.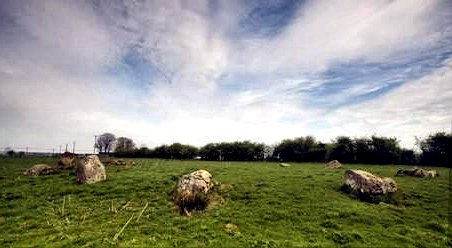 ---
---