Ballynacloghy: Portal-tomb
M 348 199
Sheet 52
Near the shore at the head of Lackanaloy Creek, 8 km SW of Oranmore, this little-known tomb partly collapsed when one of the orthostats shifted and fell.
---

Crannagh: Portal-tomb
M 426 058
Sheet 52
Visible from a lane running E from a by-road, opposite Caherglassaun Lough, this very picturesque Dermot and Grania's Bed is probably best viewed from afar. It is sited on a stretch of Burren-type limestone, at the NNE end of a cairn some 22 metres long. Two tall portal-stones, almost 3 metres high, and a backstone precariously support a tilted capstone 3.5 metres long.

~ 800 metres S in Ballynastaig, is a wedge-tomb roofed with a single massive stone.
~ 400 metres W, to the N of the lane approaching Crannagh dolmen is Ballynastaig (overgrown) stone fort. In it are a wall-chamber and a lintelled passage with steps which may be a flooded souterrain - or a well.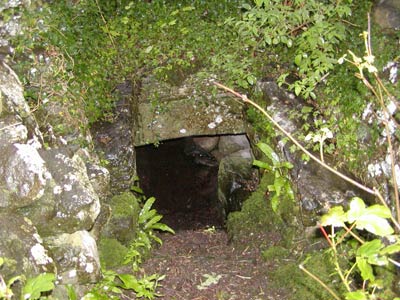 ~ 7.3 km NNE, in a field behind the stump of a Round Tower in Ardrahan (M 462 123) is a remarkably phallic standing-stone, less than one metre high.
~ 11 km SSE, on the W side of the road 400 metres S of Ballynakill Lough (M 461 948), is Derrycallan North "Dermot and Grania's Bed": a small wedge-tomb with trees growing out of it. A small chamber closed at both ends is covered by a single roof-slab over 3 metres long. The S side also of the tomb consists of a single slab over 2.5 metres long. Part of the cairn survives.
~ 8.5 km SW, in county Clare, is Ballaghaglash wedge-tomb.
---
Derryinver: Stone-row (alignment)
L 684 612
Sheet 37
Conspicuously sited 500 metres E of a by-road which flanks Tully Mountain, the six stones of this alignment (highest 1.8 metres) run from E to W.
~ About 6 km SW in Letterdeen (L 646 525) is a standing-stone of granite, 1.6 metres high on a small salt marsh at the east end of Streamstown Bay, not far from the water. It has the hunched aspect of several standing-stones, notably Crom Cruaich at Lough Gur in Limerick and Tamnaharry in Down.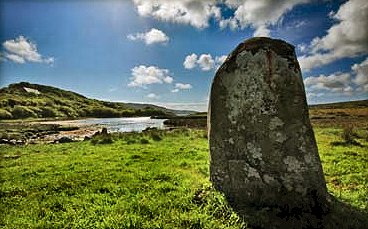 ~ 8.8 km WSW in Cleggan, picturesquely sited on the N shore of Cleggan Bay (L 605 590), beside a low cliff just 9 metres above the sea, is a court-tomb whose court no longer survives, but whose fine three-chambered gallery retains a large and beautiful roofstone over 3 metres long covering the second chamber and resting on what may be a displaced lintel-stone. This tomb and the two others nearby overlook the island of Inishbofin with an outline which resembles a reclining or sleeping woman.
click for more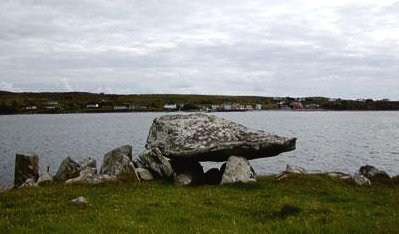 ~ 1.6 km W of Cleggan in another fine setting close to a beach in Sellerna Bay is a bug-shaped court-tomb ('Labbydermot') at Knockbrack (L 590 586), with a gallery 4 metres long which is half filled with sand, shell and bits of stone. It is just 1 metre wide and covered by a single roof slab.
~ 4.3 km NNE of Cleggan, in Legaun (L 592 548) behind a bungalow and below a rocky escarpment is a ruined portal-tomb whose chamber 4 metres long, 1.5 metres wide and 1.6 metres tall would have made it one of the largest portal tombs in Ireland. The portal-stones, however, are only 1.8 metres high.
~ Just under 5 km SSE of Derryinver (L 701 563) is a good three-stone row at Baunoge.
~ 13.6 km ESE of Derryinver in Gleninagh (L 815 552) is a row of six quartzite stones no higher than one metre.
~ Just over 21 km ESE, on low ground just N of the Bealanabrack river (L 886 554) in Poundcartron is a quartz stone-row of four low quartzite blocks plus remains of a fifth.
1600 metres E by S in Knockaunbaun (L 904 552) is a pair of quartz blocks.
Other pairs of quartz blocks occur in Galway and Mayo - e.g. Ballynew (L 626 582), and two at Crocknaraw (L 665 560) - both near the Cleggan tomb (above). A very handsome solitary stone is reported at Garranbaun (L 662 577).
~ 20 km SE is Scrahallia wedge-tomb (see below).

---
Dun Aengus or Dún Aonghasa: Stone fort
L 817 098
Sheet 51
This is the most famous of the stone forts on the Aran Islands in Galway Bay (boats from Galway town and other ports in Galway Bay, depending on the season). Although over-restored, it is a magnificent structure perched on top of a sheer 60-metre cliff,
click for more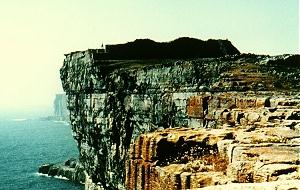 with two rows of semicircular defences and a very fine "chevaux-de-frise" of thousands of sharp pieces of limestone set upright to impede access. A fourth (outermost) wall is almost destroyed. A low-lintelled doorway leads in from the N. The innermost citadel (whose massive buttresses are modern) has a fine lintelled entrance, wall-walks, and chambers, and encloses an area roughly 45 metres across.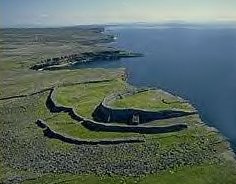 ~ 2.2 km NW of Kilronan is Dun Oghil (Dún Eochla, L 863 098), another massive (and over-restored) fort, circular and surrounded by the tiny stonewalled fields that are typical of the West of Ireland. Piles of stones inside the citadel are the remains of huts, and there are terraces and stairways.
~ 7.4 km WNW of Kilronan is Dun Onaght (Dún Eoghanacht), an almost circular, single-wall fort with terraced rampart and three house-sites.
~ 2.2 km SW of Kilronan is Dun Doocaher (Dún Dubhchathair or the Black Fort), a promontory fort with remains of chevaux-de-frise outside a massive curved rampart cutting across the base of a cliff-girt promontory.
~ 3.5 km WNW of Kilronan, in Oghil is Dermot and Grania's Bed (Leaba Dhiarmuid agus Gráinne, L 850 009), a fine wedge-tomb with three overlapping roofstones covering a gallery over 2.5 metres long.
~ On the middle island of the Aran group, Inishmaan, is Doon Conor (Dún Chonchúir, L 942 048 in the townland of Carrowntemple),
also over-restored but very impressive, with terraces, wall-chambers and (restored) hut-sites.
---
Knockanbaun: Stone pair
L903 552
Sheet 37
In a beautiful location across the Bealanabrack river, N of a minor road, are two quartzite stones 160 and 80 cms high.
click for another photo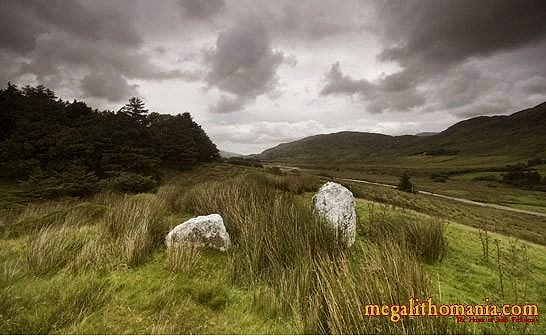 ~ 1.5 km WNW on the same side of the river and close to a stream in Poundcarton (L 887 553) an alignment of 4 stones, two of which have fallen.

~ 7 km almost due W of the Poundcarton stones (L 8154 5524) in Gleninagh is an alignment of 6 low stones overlooking the Gleninagh river.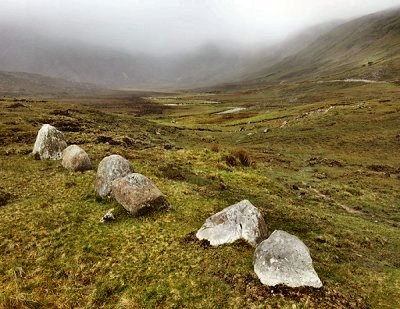 ---
Marblehill South: Wedge-tomb
M 688 039
Sheet 52
The chamber of this fine but threatened tomb is over 7 metres long and 1.3 metres high, with traces of a portico. It seems to have been originally covered by just three roof slabs - two of which are still held aloft but slipping. The central one lies on top of collapsed side-stones. Trees are seriously endangering the structure.
---
Moanmore East: Stone circle, etc.
M 645 154
Sheet 52
2.4 km ESE of Loughrea, immediately SW of the road to Tynagh and Portumna, is 'The Seven Monuments', a stone circle comprising seven stones set in a low earthen ring or henge one metre high and some 22 metres in diameter which has a single gap or entrance. The stones are said to have been re-erected, and the small cairn in the centre of the ring may have been built by the Ordnance Survey in the 19th century.
Nearby is a terraced mound which may have been an assembly-place.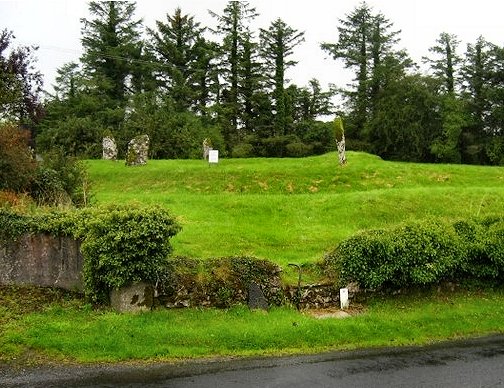 ~ In Masonbrook townland immediately SE is a trivallate earthwork nearly 100 metres in diameter which has the remains of a souterrain. There are numerous unexcavated sites of importance near Loughrea. These include the ringfort, house sites and field systems at Gorteenapheebera and the ancient cashel and 'village' at Toanroasty. Raths ('ring-forts' or fortified farmsteads) are widespread particularly north and west of the town.
~ 6.5 km N by W is "The Turoe Stone" (below).
---
Scrahallia: Wedge Tomb
L 793 432
Sheet 44
Near the top of isolated Cashel Hill, south of the Twelve Bens of Connemara, raised on a man-made platform above marshy ground, this tomb can helpfully be viewed from above. The gallery is covered by a single, unshifted capstone. In front of this on the south side is a tall flanking stone similar to those found at Island (Cork). The walls of the gallery are made of small orthostats, and chocking stones have been inserted on both sides ensure a level roof. The double walling extends backwards to a point 2 metres behind the backstone of the gallery.
My colleague Ian Thompson considers that the boggy area in front of the tomb could well have been wet when the tomb was built, because a line of six evenly spaced stones lead across it to the front of the tomb. These, 'placed a perfect pace apart', might well be stepping-stones.
click for more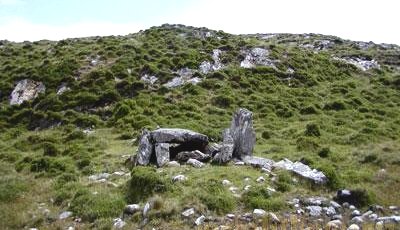 ~ Around 20 km N, amongst the Twelve Bens and the Maamturk Mountains are several stone-rows (see under Derryinver, above.)
---
Turoe: Decorated "Celtic cult-stone"
M 630 223
Sheet 46
In a field beside a house, up a lane to the N of a by-road, 6 km NE of Loughrea, this remarkable phallic pillar was moved from the Rath (Iron Age farmstead) of Feerwore (Fír Mhór: Big - or Great - Men) in the same townland, where excavations suggested that an open site dating to the last centuries before the Christian Era was later enclosed. The stone is of granite, 90 cms high, and the top half is covered with a continuous abstract curvilinear design carved in relief in the Celtic style known as "La Tène", with a kind of circumcision-line of Greek-key pattern beneath it. The flowing design can easily be interpreted as semen. It is amazing that such a wonderful object - resembling (and obviously as important as) the Navel Stone at Delphi, has survived in Ireland up to the 21st century, remaining outdoors, albeit somewhat spoiled by a concrete surround and hideously-painted cattle-grid. More recently, an ugly shed has been erected in order to protect the stone from vandalism, through whose dirty plastic windows the stone may be glimpsed.
click on the thumbnail for larger pictures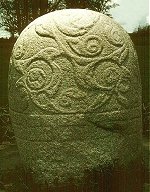 It has a kind of "sister" in the egg-shaped Castlestrange Stone, county Roscommon.
---
---