IRISH CROSS-PILLARS
AND CROSS-SLABS
part three




text and photographs by
Anthony Weir


On the island of Inishmurray, off the coast of Sligo, many cross-slabs and pillars survive, as well as ruined churches and monks' cells (known as clocháns). Some slabs and pillars have been set up on leachta, others stood or lay about until recently removed to the schoolhouse 'for their protection'.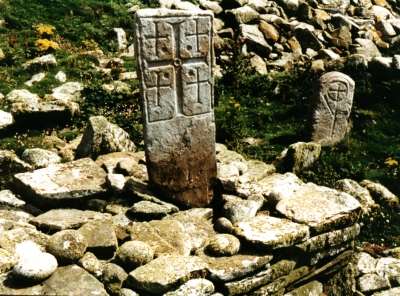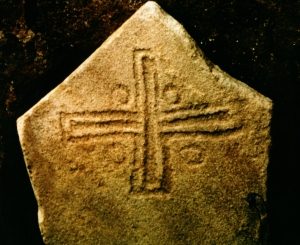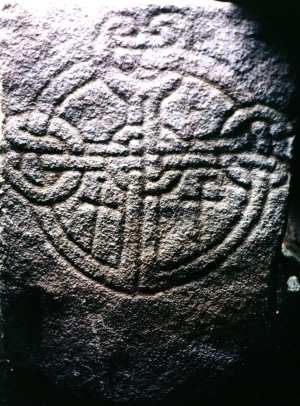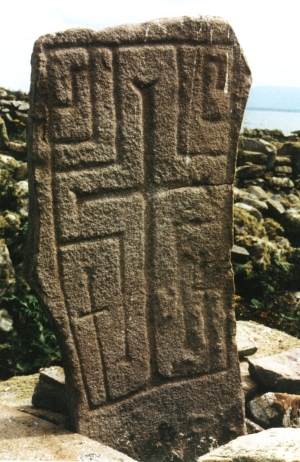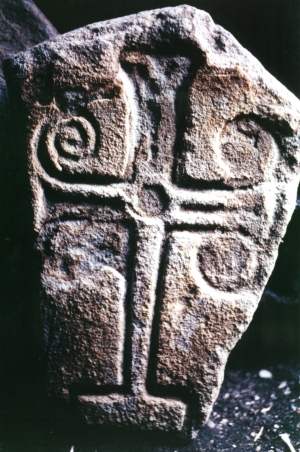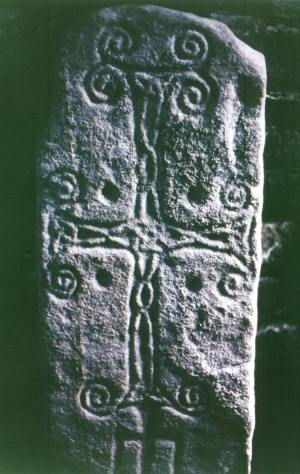 A panoramic virtual visit to the island, with an excellent essay on its history, can be enjoyed at
Voices from the Dawn

It is not surprising in such a well-preserved island environment as Inishmurray to find smooth oval or spherical, magic, holy, cure- or curse-stones (discussed in part two) - here decorated by engraving - placed on top of a leacht...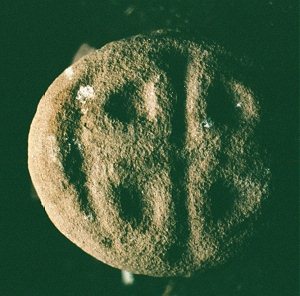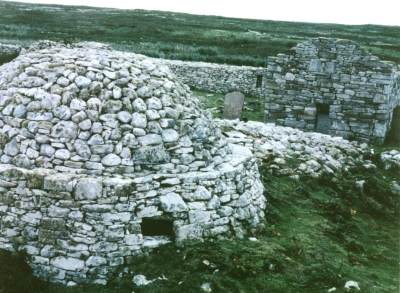 ...not far from a large corbelled stone hut (sometimes mistaken for a sweathouse)
whose entrance is now very low because of infill.


The same combination of rectilinear with curvilinear design occurs on grave-slabs.
One such, carved on both sides is one of a few known to have crossed and re-crossed the Atlantic as talismans to help the afflicted descendants of emigrants from the area.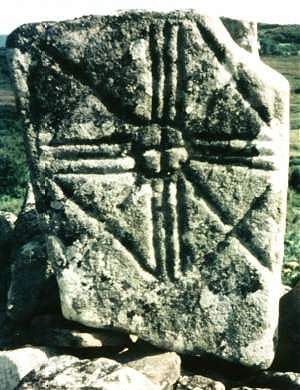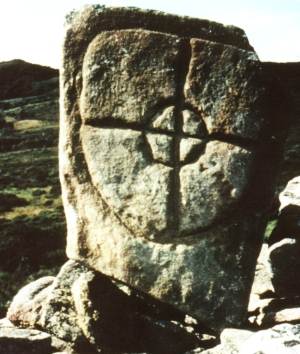 Bruckless, county Donegal: two sides of the same slab.

Slabs and pillars seem to merge on certain sites - which, like most of those illustrated here, are either on islands or near to the sea.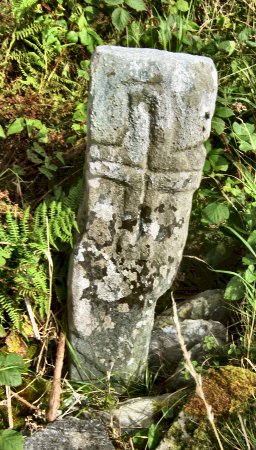 Inishbofin, co. Galway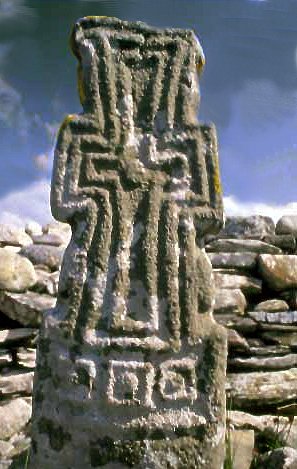 Caher Island, co. Mayo
On the island of Inishkea North, large cross-slabs (unlikely to be funerary) become crucifixion-slabs.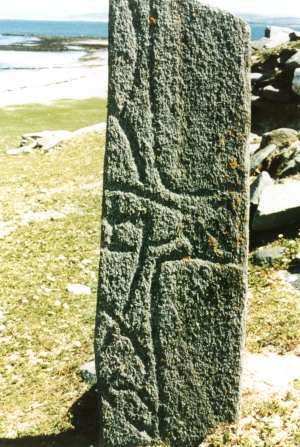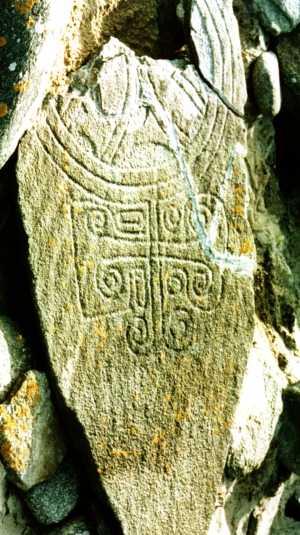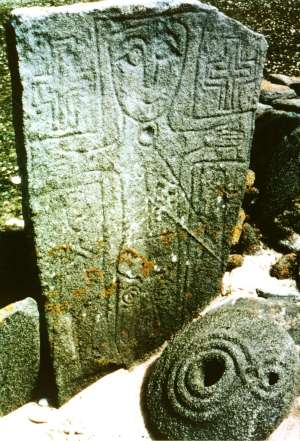 Inishkea North, county Mayo:
crucifixion slab and ornamented quernstone:
note the wounds of Jesus indicated by cup-marks


At Kilnaruane in county Cork, an impressive schist pillar is carved on both sides. The SW side features SS Anthony and Paul the Hermit in the desert, a praying figure, and a cross. Uniquely on the NE side is a wicker-and-skin boat (currach) with rowers. It was from this area that St Brendan the Navigator sailed to Iceland.
click for a larger picture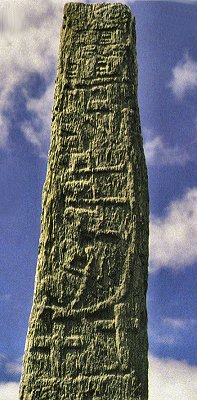 rotated to the right

Though Dublin City has a very fine cross-pillar which is nothing less than an elaborate, latter-day standing-stone, the development is less deft on some other early, near-coastal sites.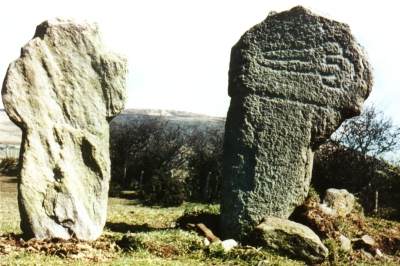 Tullaghora, county Antrim

In contrast to the later development of the cross-shaped "scripture crosses" there was a definite tendency (possibly prehistoric) to carve some of the large early pillars in human shape, as can be seen at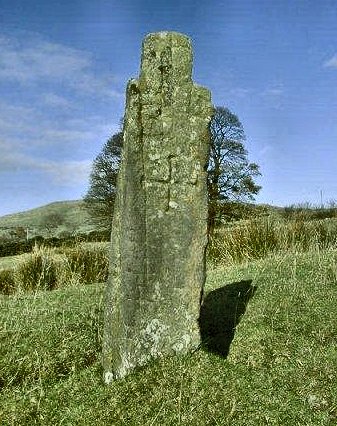 Legananny, county Down
and, more spectacularly, at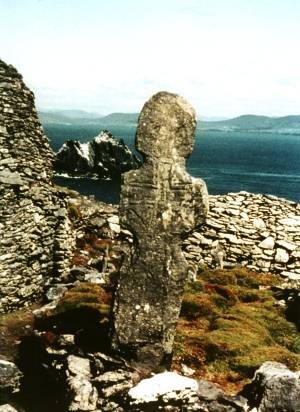 click for a larger photo
Skellig Michael, county Kerry.

Another development was the "face-cross", on much smaller slabs or very small pillars.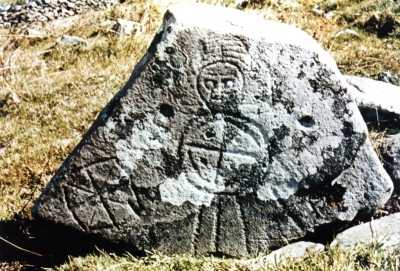 Knappaghmanagh, county Mayo:
(note the cup-marks or solution pits)


The most sophisticated of the face-crosses, however, is not within the scope of this website, for it is on the Hebridean island of Colonsay, Scotland.
This little pillar, in a still-used ancient graveyard, is of the simpler, more primitive kind.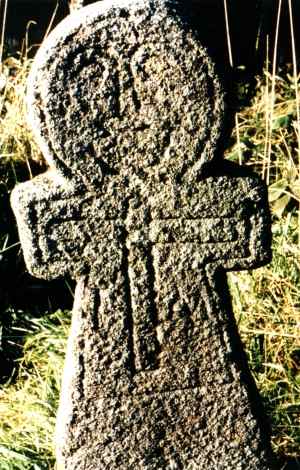 Kilbroney, county Down.


It is in the north-west county of Donegal that pillars, slabs and crucifixions merge together, and associate with motifs drawn both from pre-Christian Ireland and Merovingian France.
Inishkeel, county Donegal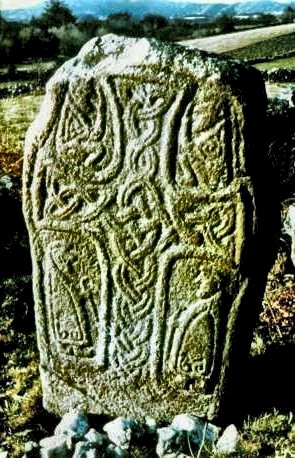 Drumhallagh, county Donegal:
note the quartzite pebbles at the base of this slab
Knots and circular motifs of various kinds become a common feature on the sculptured crosses of the following centuries - along with enigmatic human figures, as well as Biblical scenes such as The Fall, Cain and Abel, King David playing his harp, Daniel in the Lions' Den, the Baptism of Jesus, and the Last Supper.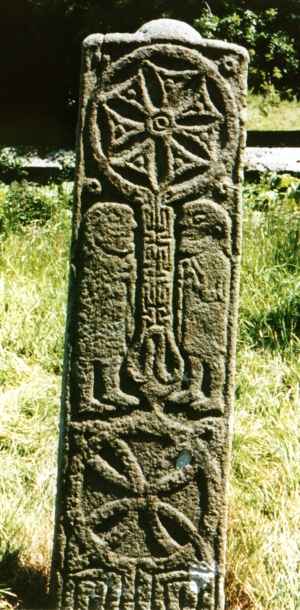 Cross-pillar, Carndonagh, county Donegal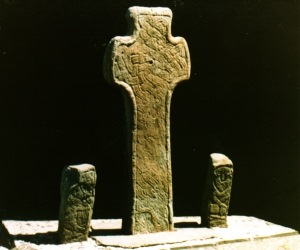 Cross and "guard-pillars", Carndonagh, county Donegal;
the pillars may have been boundary-markers for the monastery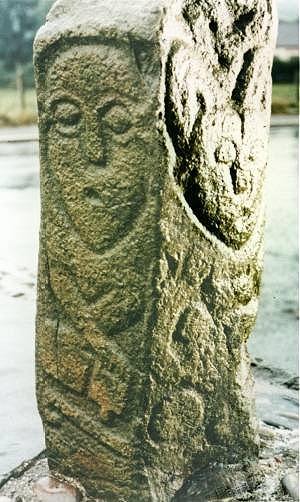 "Guard-pillar" of the cross at Carndonagh, county Donegal:
a monk at the left, and a mythological figure (reminiscent of the
Norse trickster/devil-god Loki) on the right.
The latter is not so different from our motif-statue of the smith-god Nuadú of the horned helmet - also from a Christian site - which may be five hundred or more years older.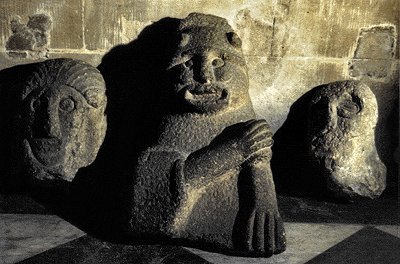 The pages "Enigmas of the Irish Crosses"
appear only on the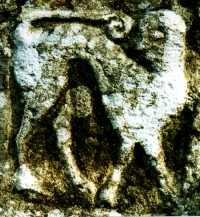 Manticora on the side of a cross-pillar (or cross-shaft)
at Tibberaghny (Tybroughney), county Kilkenny: one of a large repertoire
of enigmatic beasts and scenes on Irish crosses.

Click on the picture above to see another enigmatic carving.