LINKS

to illustrated archæological web-sites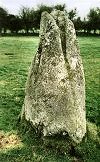 latest sites
A superb site documenting a long-term project
to record photographically all the megaliths in Ireland -
but unfortunately off-line for the foreseeable future.


Voices from the Dawn
Excellent gazetteer with superb photos and panoramas,
which examines monuments and earthworks from a folkloric point of view.
A blog dedicated to recording confirmed & suspected astronomical alignments in Ireland
at Winter Solstice, Summer Solstice, the Equinoxes & Cross-Quarter Days.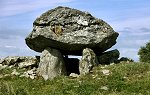 Megalithic Monuments of Ireland:
wide coverage, many good photos,
but no descriptions.


Andy Burnham's Megalithic Mysteries site
covering prehistoric sites in Britain...


Logo by courtesy of IrishMegaliths.org.uk
...and his interactive Megalithic Portal where you can post messages
and update entries.


The Modern Antiquarian:
another excellent interactive site, comprehensive and very well designed.
latest postings
The Megalithic European
selected pictures from the book by Julian Cope.


Shadows and Stone
superb professional photos of selected Irish megaliths.
Introductory slideshow (no captions)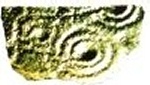 A comprehensive Guide to Irish Archæology on the Net.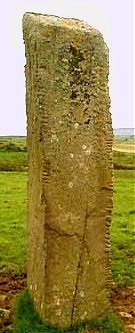 Martin Byrne's SACRED ISLAND:
Selected megaliths in the West of Ireland.


A site devoted to the County Meath passage-tombs
and offering tourist information, interesting books and CD ROMs.


A small selection of Irish megaliths nicely presented.

Ancient Monuments of County Waterford.
A good introduction to the

Irish Sculptured Crosses.
a comprehensive guide to
ROUND TOWERS



OF IRELAND
Early Christian Sites in Ireland



a comprehensive gazetteer
mythical ireland
A site for those interested in the archæo-astronomy
of Passage-tombs.



A specialised OGAM site
with pictures of arbitrarily-selected ogam stones,
many of which are in museums.



A comprehensive and excellent guide to
Manx Megaliths and Manx postage-stamps
seems, alas! to have disappeared.
The link is to a mediocre youTube video - faute de mieux.


Scottish (Pictish) Symbol Stones, etc., meticulously-researched,
splendidly presented.


The Kilmartin Valley archæological website:
a superb guide to the many megaliths and petroglyphs
of this valley in Western Scotland.



Selected megaliths of Wales -
an informative but poorly-presented site.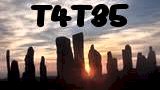 Megaliths of France, with GPS and other co-ordinates:
a very well-designed, ongoing website (with satellite maps)
moving ever-outwards from the Paris Basin.
NOTE: Belgian coverage is very poor;
do not use this site for Scottish or Irish megaliths!
TERRE DE MéGALITHES
A page of good photos of megaliths
mainly in the Centre-West of France.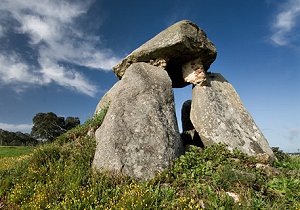 Ken Williams'
Megaliths of Portugal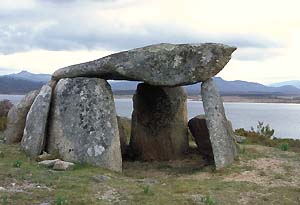 Megaliths of Portugal: more excellent photos.

A site with large pictures of the better-known Portuguese megaliths >>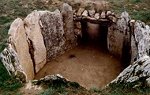 Megalitos de Burgos:
Spanish web-pages with many sites in the Castilian province of Burgos,
good texts in Spanish only, and a good links (enlaces) page to many other Iberian web-sites.


Megaliths of Menorca
in Germanic English.


Sardinian prehistoric tombs and
NURAGHI -
good photos and descriptions on an official Sardinian web-page.


Statue-Menhirs and Dolmens of Corsica:
excellent photos from Stonepages (below)...


Megalithic Sites in Britain, Ireland and France:
a hackneyed selection, not well-researched, but some good photos...


3
...and fine photos of some more-unusual sites can be seen on StonePages'
Ancient Scotland Tour: http://www.stonepages.com/tour/
Ancient Stones of Scotland: http://www.stonepages.com/ancient_scotland/
news feed
...and Stones of Apulia: http://www.stonepages.com/apulia/
- which makes an interesting comparison with the web-site below.


Megaliths of Malta: a huge site with many photographs.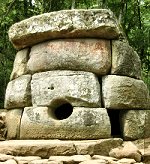 Videos of tombs in Southern Russia.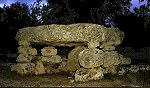 Megaliths of the Netherlands:
a comprehensive guide with one photo for each monument.
'Dolmens in Korea'
download a pdf file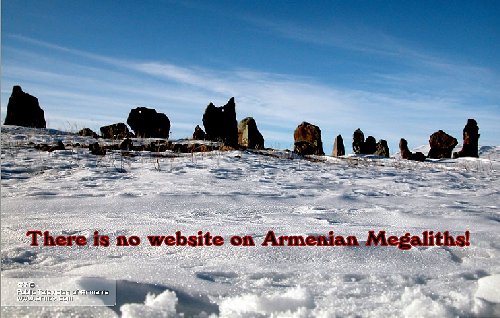 but there are videos on YouTube
"Embers of the Sun" parts I and II"
---
For a non-illustrated complete catalogue of sites in Northern Ireland and Britain
(somewhat spoiled by poor presentation, clumsy interface, mis-spelling and bad punctuation),

go to: Archæology Data Service
For Northern Irish sites it is essential to know the name of the site's townland, unless it has a widely-popular name, such as The Giant's Ring.
Choose Search by Resource at the top of the page,and tick the box beside Northern Ireland Sites and Monuments Record, half-way down the list of resources.

---

Updates to this site are announced on the Gazetteer Map Page >
If you wish to ask or tell about any Irish megalith

click here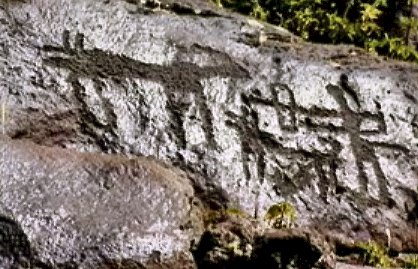 Hunting with dogs - an Armenian petroglyph.