Ballynoe, county Down.
J 481 404 - Sheet 21

A view of the circle from the NE on a snowy winter morning, with the Mountains of Mourne to the South-west.
They do not seem to align significantly either at the autumn equinox nor the winter solstice,
though at some point between these days the sun must set in the cunnic gap
between the two contiguous highest of the rounded peaks just visible in this picture
between and above the letters A and B.
The Western axial stone is marked with the letter A.
The Eastern axial stone is marked with the letter B. Another stone is behind it.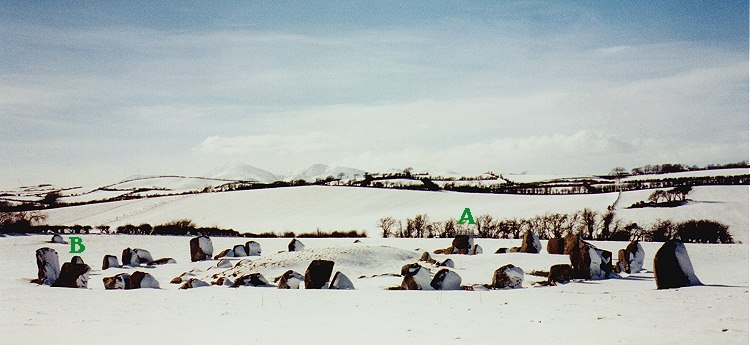 The Ballynoe circle lies at 54° 17' North, and has no views to the East.
The Swinside circle is also 54° 17' North, and has no views to the West.
On the Isle of Man at the same latitude lies Ballafayle Long Cairn...


One of the stones on the E side of the circle, immediately below the letter B above,
to the S of the eastern axial stone which is seen here (behind and to the right) as roof-shaped.
The lines of natural 'solution pits' (possibly enlarged by human hand) must have been the inspiration for artificial 'cup-marks'.

There are other stones with solution-pits in the circle; one near this stone has a very fine (but probably entirely natural) and beautifully-placed cup-mark.


Click on the camera to see it.

Click on the stone for a view from the West showing the entrance to the circle.
Click here to compare the circle at Swinside in Cumbria.

And click here for a slide-show.