Monuments de la Viguerie, Salles-Courbatiers (Aveyron)
[1:25.000 Sheet/Feuille 2238 E]

4. Corbelled hut or Casela (cabana, gariota)
Selon wikipedia, une gariote ou gariotte est, dans le parler du Lot, une guérite enclavée dans une muraille ou dans un pierrier de l'ancien vignoble.
Il s'agit d'une construction en pierre sèche, c'est-à-dire sans mortier liant les pierres entre elles.
Qu'elle soit incorporée à une muraille ou à un pierrier ou encore indépendante,
qu'elle soit de plan circulaire ou quadrangulaire, qu'elle ait l'allure d'une absidiole ou d'une nef,
la gariote est, en fonction de sa taille, un simple abri pour une, deux ou trois personnes ainsi que l'atteste son aménagement sommaire :
dalles saillantes servant de sièges rustiques, banquette de pierre, parfois niche.
Proprement dit, une gariota était un abri petit et rudimentaire, bâti dans un muret de champ ou pierrier.
Une casela ou cabana servait d'abri au propriétaire du champ ou de la vigne où elle se trouvait,
ainsi qu'aux ouvriers agricoles, aux moissonneurs, aux vendangeurs, etc.
comme habitation temporaire et/ou comme dépôt d'outils (une grange en miniature!) quand les campagnes étaient
plus peuplées et les terres étaient très morcelées, parfois loin de la maison.
Beaucoup ont été demolies. Les premières touchées furent celles bâties au milieu des champs
éliminés pour une « meilleure évolution » des machines, surtout en bas-Quercy.

Gariote ou gariotte est la forme francisée du quercynois garioto (occitan normalisé gariòta). [Wikipedia]
============
This very fine example of a Casela lies around 80 metres N of the megalithic tomb marked on the map.
It is incorporated into a wall (a feature of the smaller, more rudimentary gariotas), and has projecting stones inside to serve as seats.
They were built as huts for overnight stay, and/or as stores for tools at a time when land was split up into parcels
often far from each other and from the farmhouse.
As with many surviving examples, woodland has replaced former agricultural land, but some may well have been built
in woodland for use when oak-trees were coppiced for firewood.

The first photo shows a view from the track.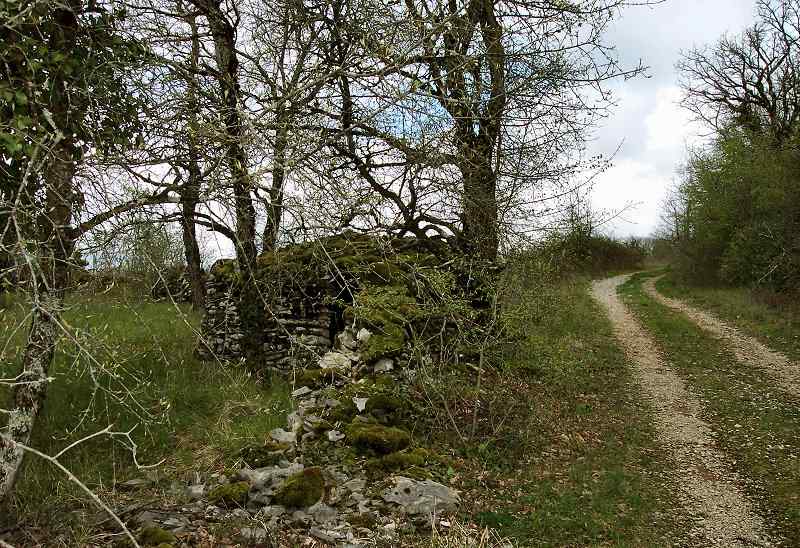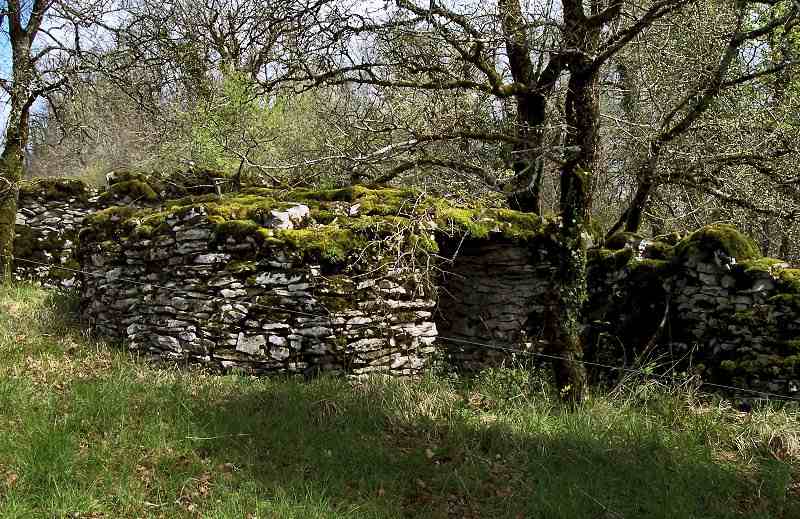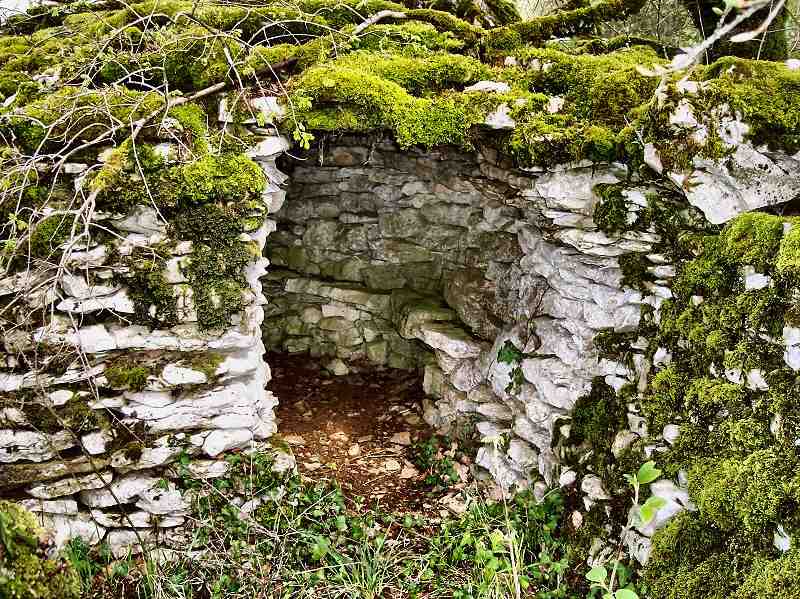 The entrance.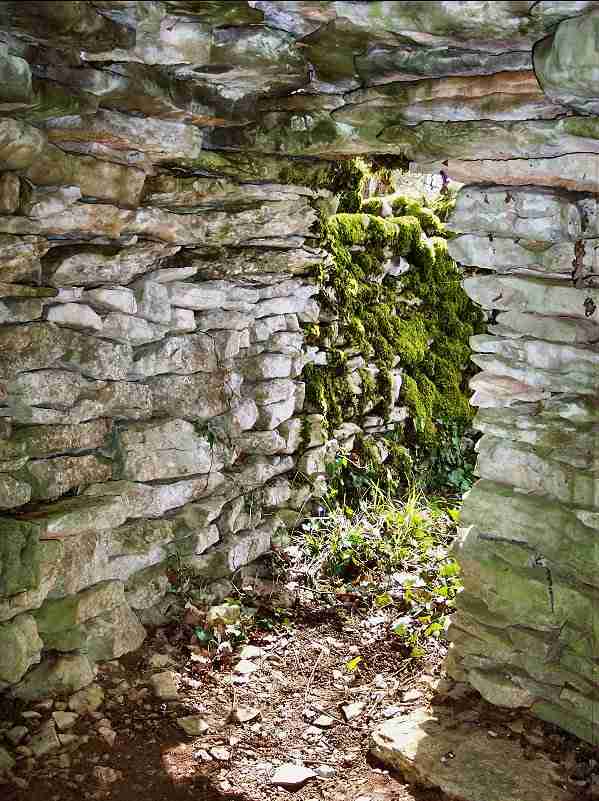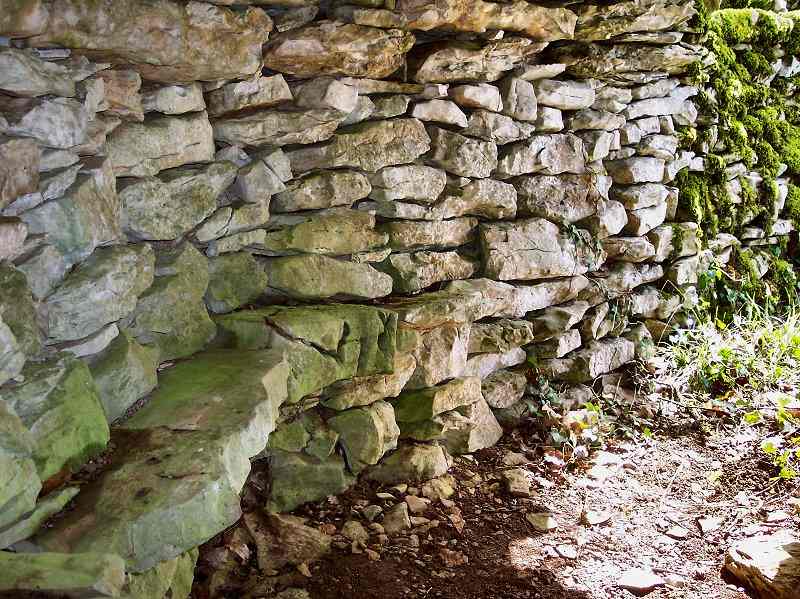 Seats.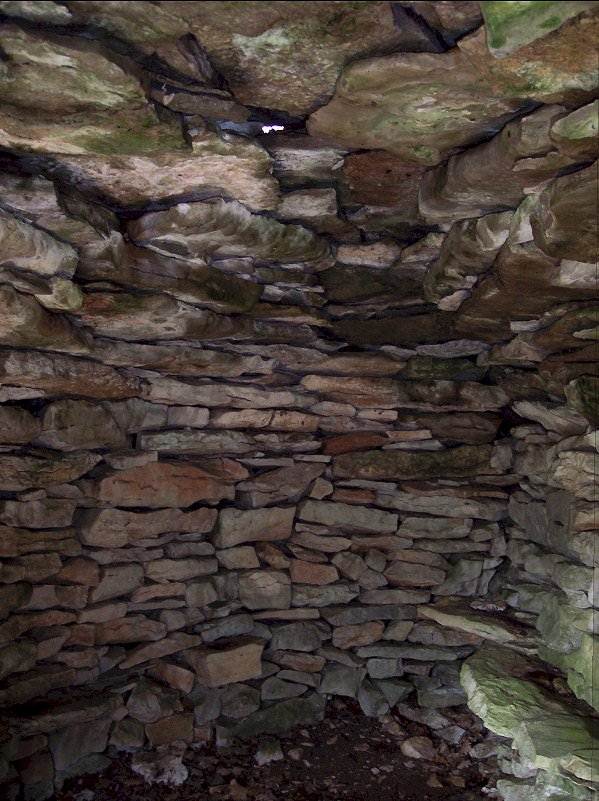 The corbelled roof.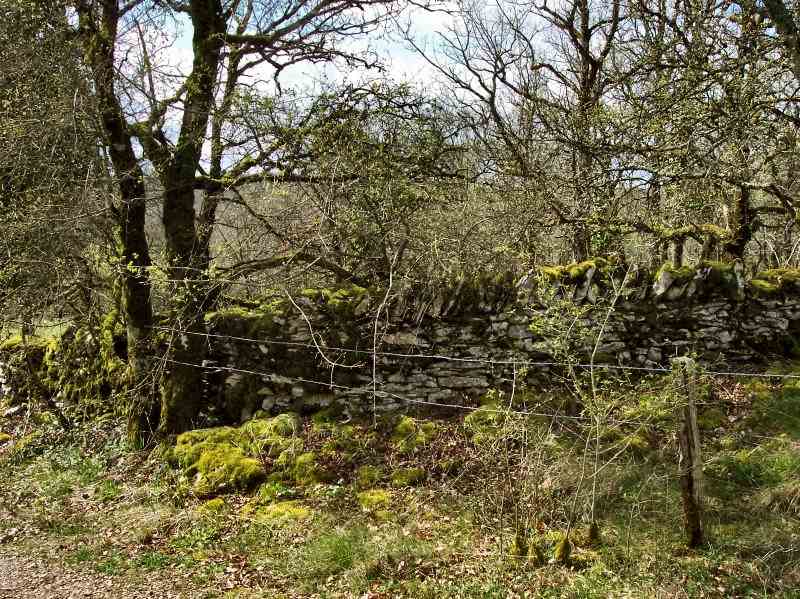 The hut from behind: it is built into the angle of the wall.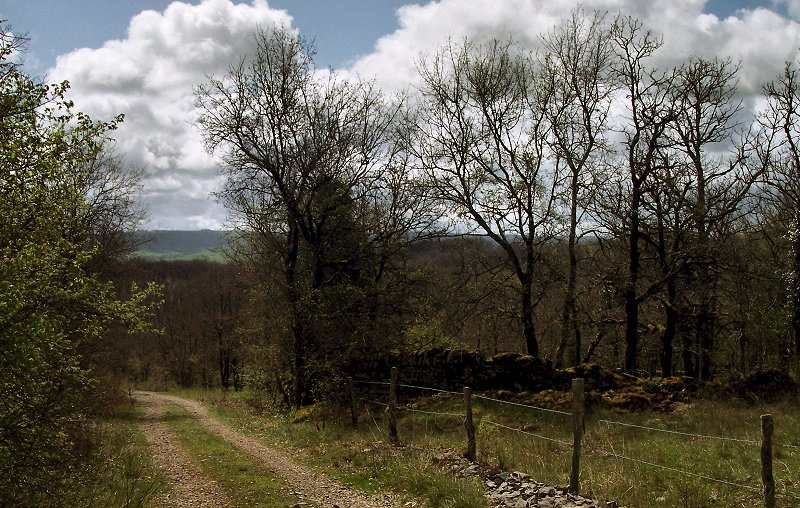 About 120 metres ESE is a completely different kind of shelter which, I believe,
is roofed with at least one roof-stone of the wrecked megalithic tomb marked on the map.
Gariotas and caselas are built in a manner traditional all over stony parts of Europe, especially in the SW.
Compare with the much smaller Irish sweathouses which have tiny entrances.
Click to see a Gariota built on top of a megalithic tomb >
Just over 9 km NW on the other side of the Lot is the remarkable pierced dolmen near Faycelles >