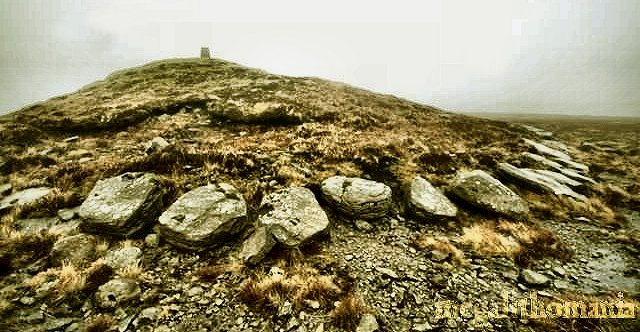 The hill is surrounded by standing-stones and other monuments, suggesting that it was a holy mountain.
Some are small, like this one (D 086 345), little more than waist-high)...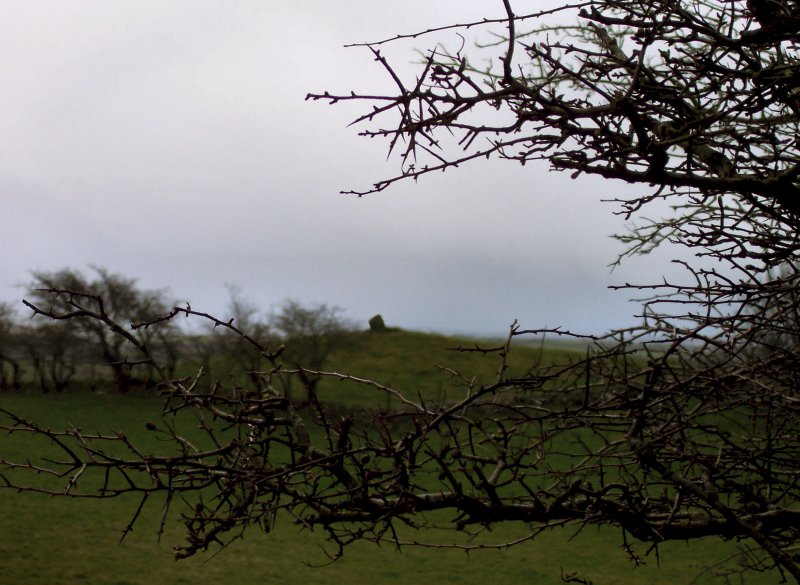 ..and this one, at Monanclough (D 083 358), perhaps slightly taller.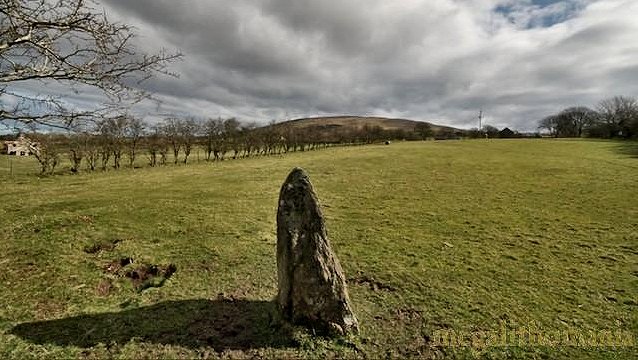 At the other end of the scale is the stone at Flower Hill (C 934 382) near Bushmills, which is a massive irregular chunk,
2 metres wide and 1 metre thick, which may have been even higher than the present 2.5 metres of the taller of its twin peaks.
Knocklayd can just be seen in this photograph beneath the elegantly-serpentine branch of the tree.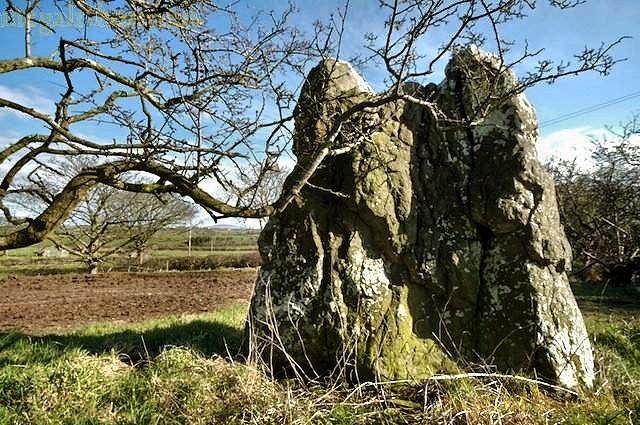 Other stones are more-conventionally massive, such as this one, 2.5 metres high, at D 091 380 in the townland of Ballylig,
here shown overlooking Ballycastle and the North Channel.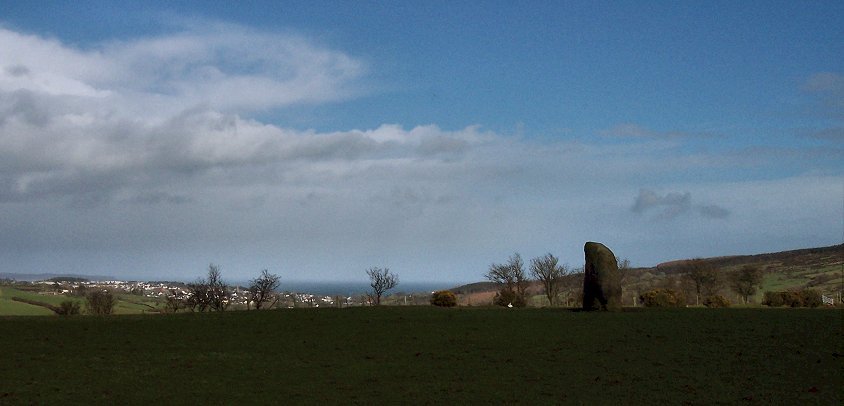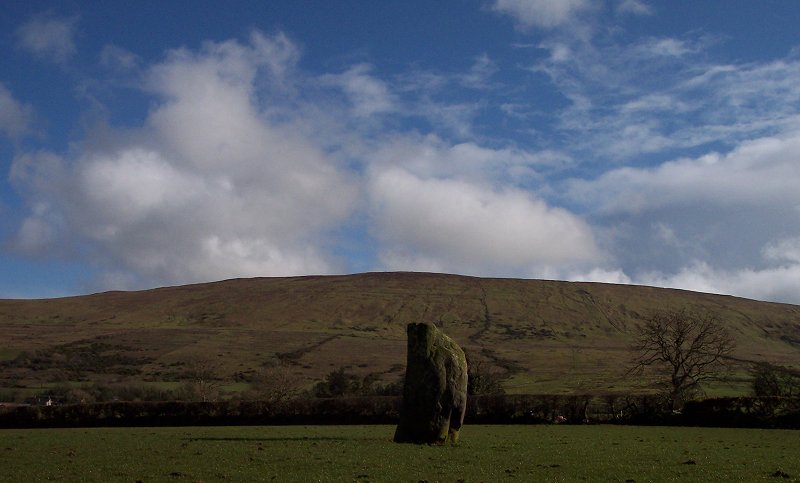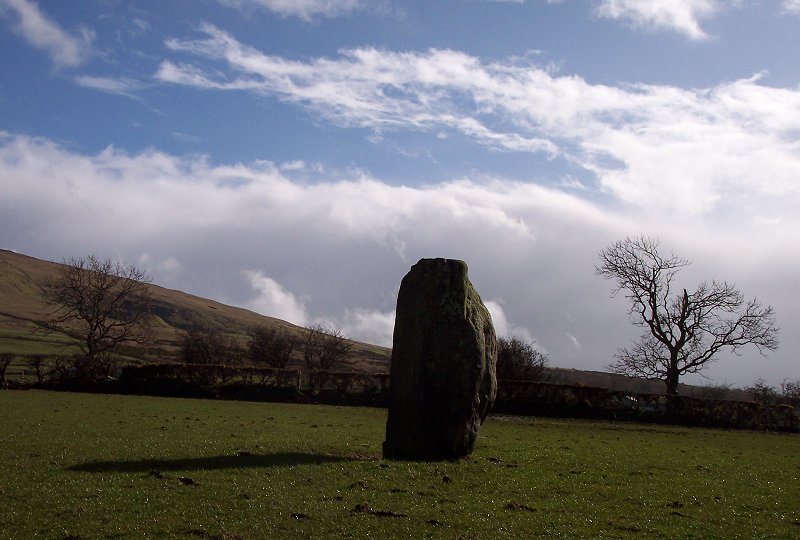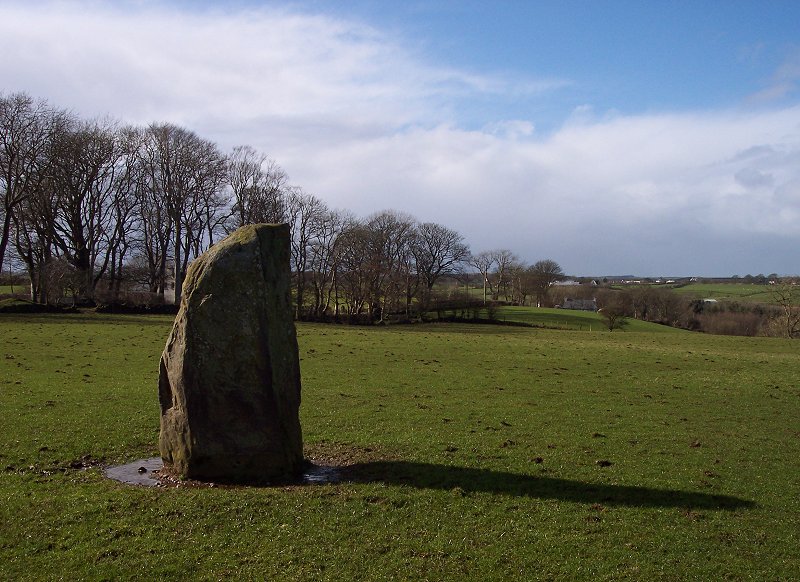 500 metres WNW of the Ballylig stone in Turraloskin (D 086 382),
surrounded by quarry spoil, but surviving in its original position, is a stone is 2.1 metres high,
on the N face of which a large expansional Latin cross has been carved.
It is part of the Early Christian settlement of Kilcrue, including a church & graveyard, holy well & souterrain.
The stone has a prehistoric quality to it, and is very likely one of the many 'pagan' monoliths brought into the service
of the new religion.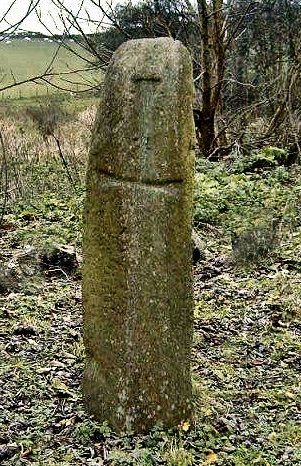 1 km SW of the Ballylig stone is another at Toberbile (D 085 372), impressive from the W,
composed of schist with quartzite inclusions, here seen from a by-road in this photo.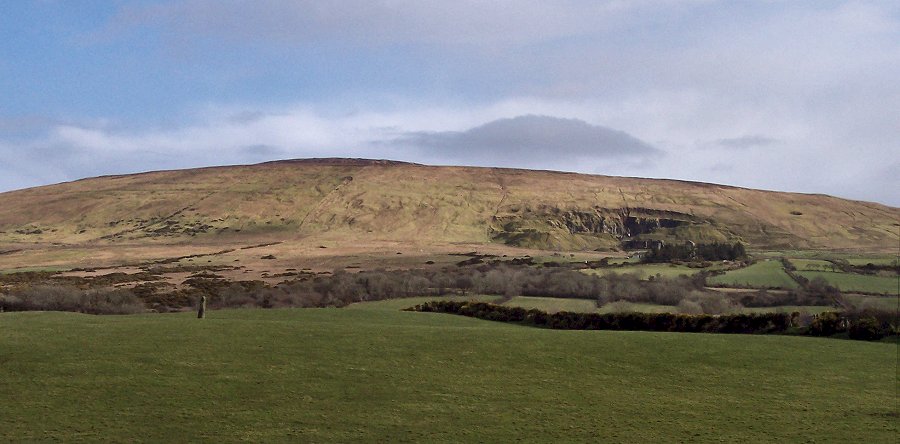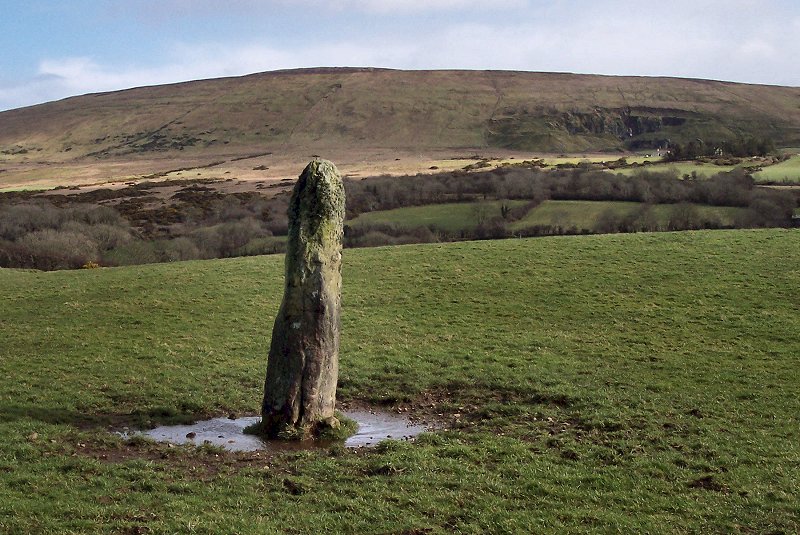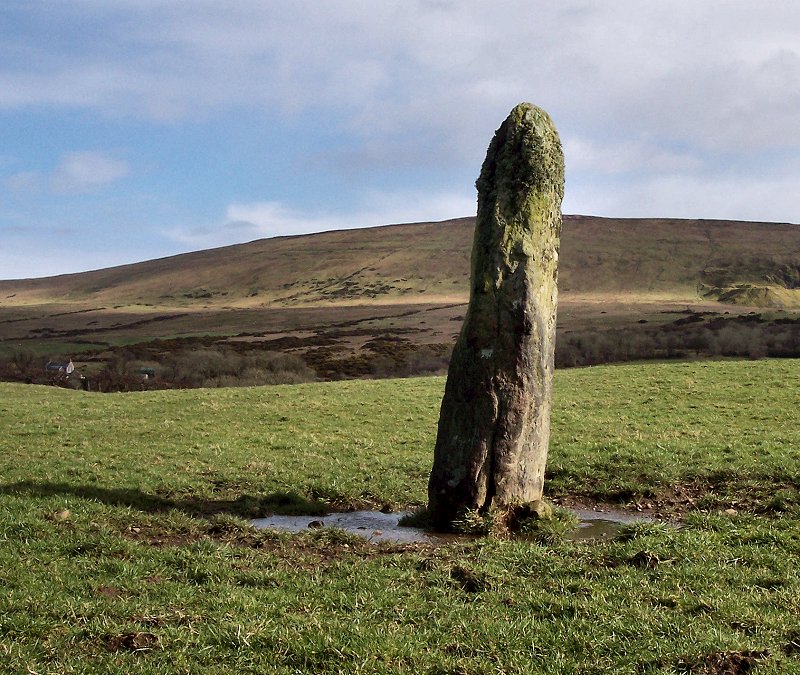 But this apparently-phallic pillar (2.4 metres high) looks less phallic from other angles.
No trace survives of a second upright stone reported in the OS memoirs (cf the stones at Duncarbit and Ballylig).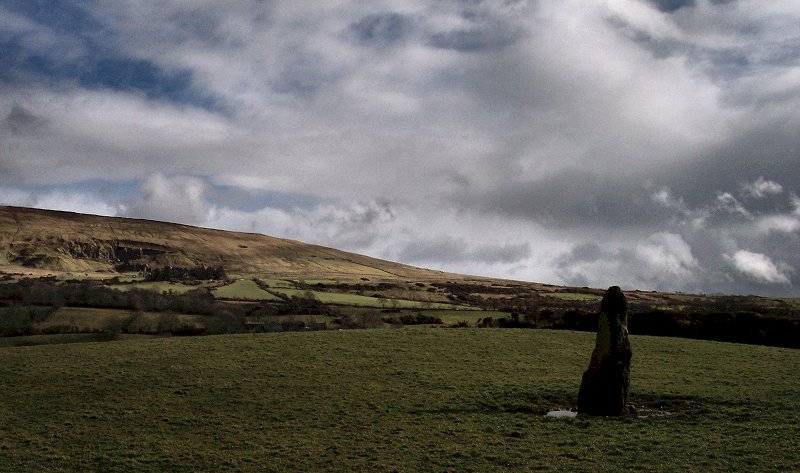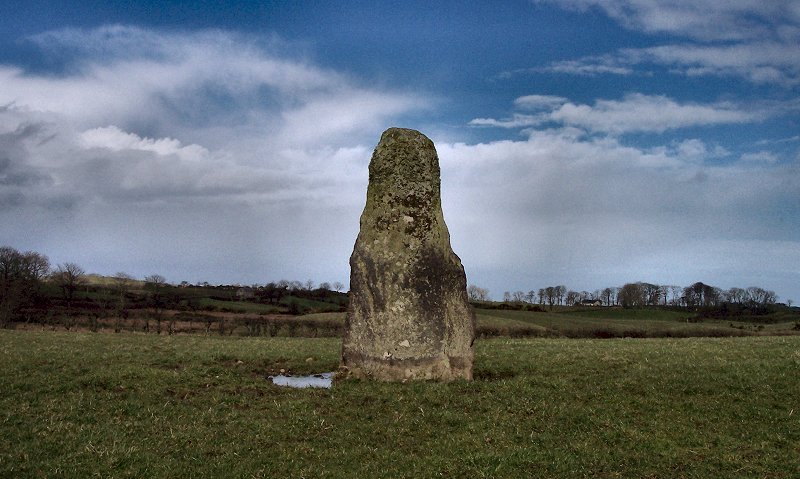 photo by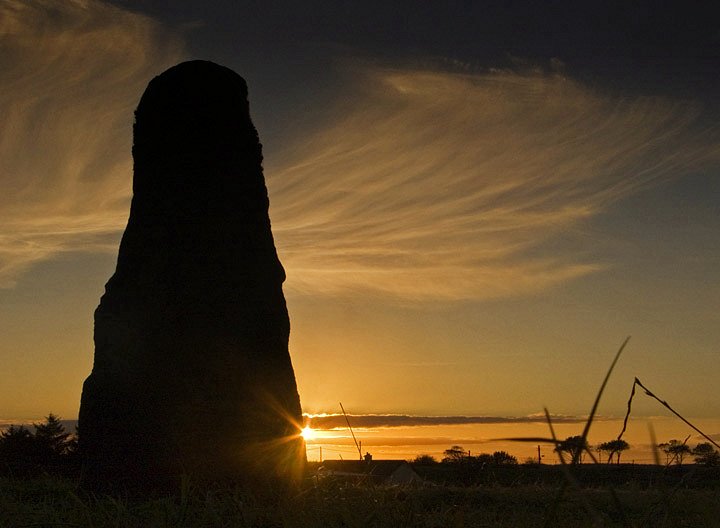 Philip Hay

There is also the fine pair of stones at Duncarbit,
and a fine menhir, 1.9 metres high, in Corvally townland (D 134 347) which was once knocked over by a bull.
It originally stood on a low mound, around which flint scrapers and a blade were found.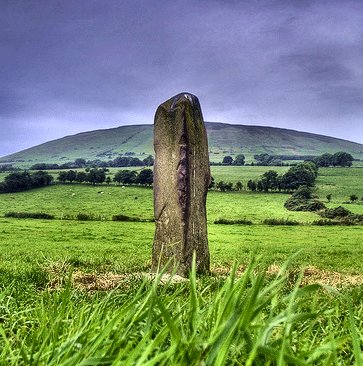 s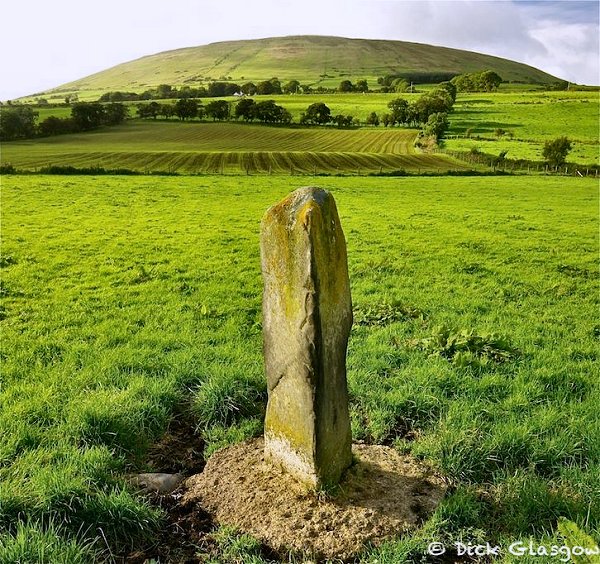 A stone socket for the menhir was cut into the mound at a later date, which, after the Taurine Toppling,
was re-erected and set in concrete in 1993.

At Breen (D 122 340) is a nicely-tapered stone, 1.6 metres high.

Slightly farther away than the others is the pair of standing-stones in Culfeightrin church graveyard (D 148 408).

Christian monuments also surround Knocklayd, including the pair of cross-pillars at Tullaghora (D 095 340)
here shown with Knocklayd in the background,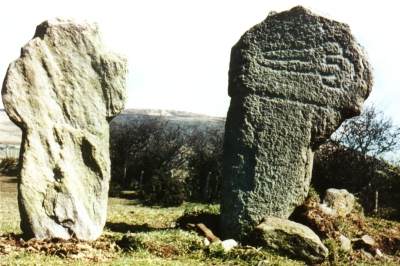 a similar cross-pillar at Broughanlea (D 135 408), by the roadside on the A2, also shown with Knocklayd in the background,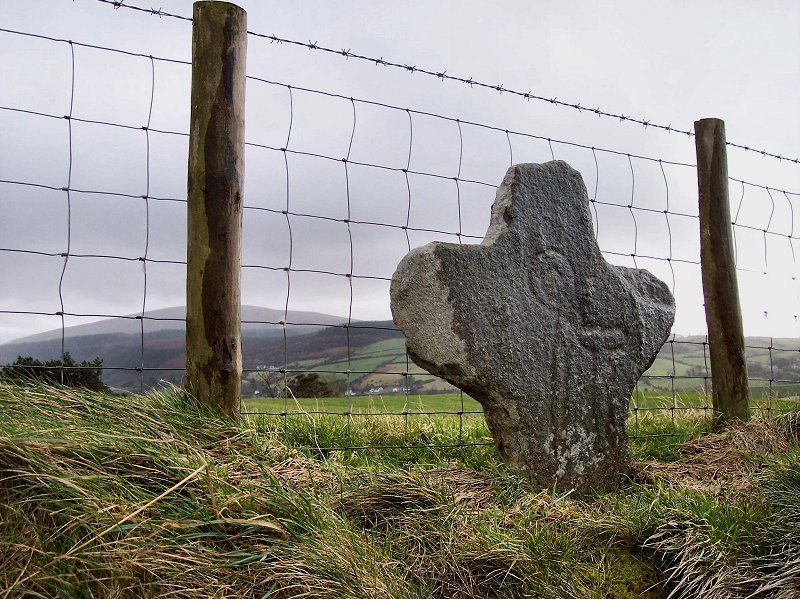 the nearby Bonamargy Friary on the outskirts of Ballycastle with its interesting holed cross.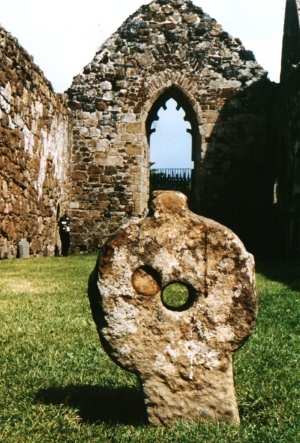 << BACK<<