Beaghmore, county Tyrone
H 685 842 - Sheet 13
Nearest village: Dunnamore
Nearest town: Cookstown

My dog Oscar gives an idea of how small most of the stones in this photogenic complex are.

This superb site is the only excavated and maintained stone-circle site amongst many in central Tyrone.
Circles of small stones with tangential alignments of larger ones are common in the Central Tyrone and East Fermanagh area,
and at Beaghmore a group of these, together with about a dozen small cairns were uncovered during peat-cutting.
More may lie in the uncut peat-bog beyond.
At present 7 circles and 9 rows can be seen - the stones of the rows being from a few centimetres to 1.8 metres high.
Burials and kists were found in some of the cairns. One stone circle is filled with hundreds of small stones set upright.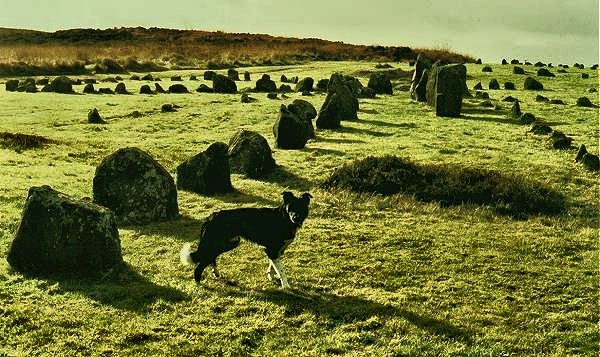 click on the picture for another view

<< BACK<<