Labbamolaga, county Cork
R 763 176 - Sheet 73
Nearest town: Mitchelstown

The "cursing-stones" of the early (probably pre-) Christian site, now hidden under a slab.
They were known locally as the Clocha Mealachta or 'Stones of Rebuke'.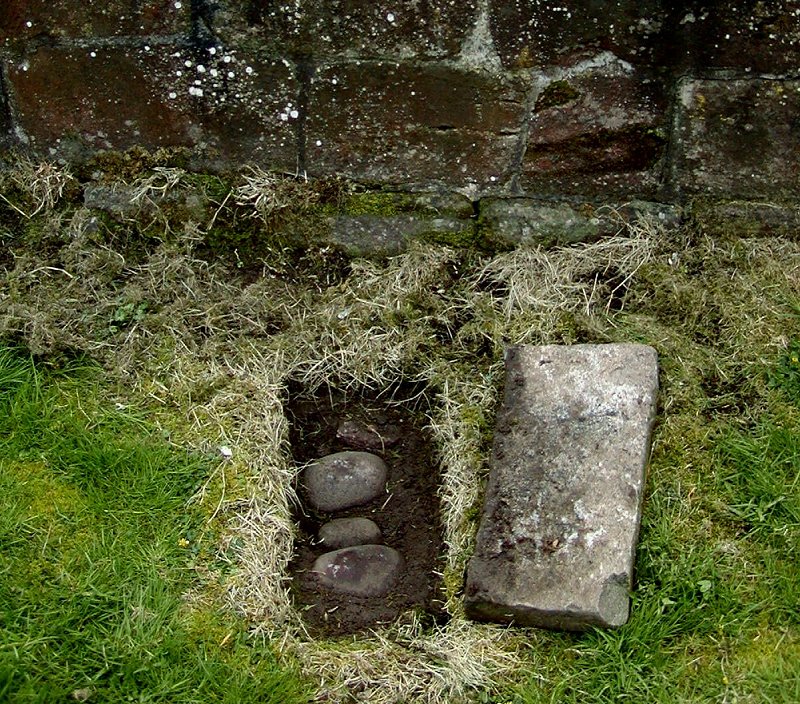 There is also St Molaga's Well (hidden in a tangle) which was, of course, part of the turas ('pattern' or ritual round)
which was held on Easter Sunday.
Inside the small church is the Leaba, "... a kind of kist, consisting of a large flagstone resting on
low side stones, and leaving an open space beneath, said to have been the bed of the Saint.
This is nearly wide enough to permit a person to stretch on the ground in immediate contact with the flagstone above.
The Story of Saint Mo-Laga
(adapted from Irish websites)
His parents were reputed to be very old when he was born some time in the seventh century. (This is a sign of specialness, so on his birth it was predicted that he would achieve greatness.)
On achieving manhood, he went to Scotland, and thence to Wales where he attached himself to St David. He returned to Ireland and founded a monastery at Bremore, near Balbriggan, county Dublin, controlled by the clan called Cianachta, whose chief became seriously ill. The local Druids could not cure him, but St Molaga could. (This an interesting confusion, because Ireland was supposed to be thoroughly Christian at this time.) In return the war-lord gave him the land of Bremore and a yearly allowance - so St. Molaga built a church.
He later returned to Labbamolaga where he founded a monastery. After his daily work-ethic he would rest on the stone now known as Mologa's Stone - under which he was eventually buried.
He also founded a monastery at Timoleague, County Cork, whose Irish form means "the house of Molaga".
The four [or more] pillars of stone adjacent to the monastic site "probably mark the burial place of some noble prince of pagan heritage who lived in Mologa's time, showing the saint's courage in coming to live among a Pagan race" - though, as already mentioned, Ireland should have been throughly Christianised at this time.
Another tale has it that four men robbed the monastery and, as one of them stooped to pick up a dropped chalice, he was turned into a pillar of stone "as can be seen from the stoopedness of one of the pillars". Presumably the others are the petrification of his unstooped fellows. According to tradition there is also a skull in the graveyard, which, although buried several times, has repeatedly resurfaced - a reversal of the present state/behaviour of the Clocha Mealachta.
Interestingly also, St Molaga has an association with bees - like St Gobnait of Ballyvourney (also in county Cork) who is very obviously a Christianised female deity.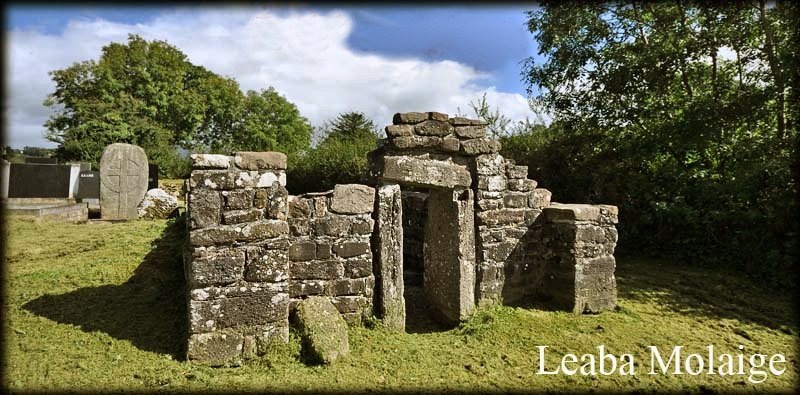 for more pictures see Jim Dempsey's Megalithic Ireland website,
from which this photo has been taken.
<<BACK<<