Quelques mégalithes du Minervois occidental
All are marked on the IGN 1:100.000 Béziers-Montpellier map (no.65).
Tous marqués sur la carte IGN 1 : 100.000 No.65 (Béziers-Montpellier).

1. Dolmen de Fados, or/ou Dolmen du Morrel das Fadas,
or/ou Dolmen du Côteau des Fées, Pépieux (Aude)


View from the entrance into the chamber,
which has two 'kennel-hole' entrance slabs on either side of the antechamber below the single surviving roofstone.
Le couloir vu de l'éntrée de la tombe qui est fournie de deux « portes-de-four » à chaque coté de l'antichambre
sous la seule dalle de couverture qui reste.

View from the rear of the gallery towards the entrance.
Le couloir vu du bout.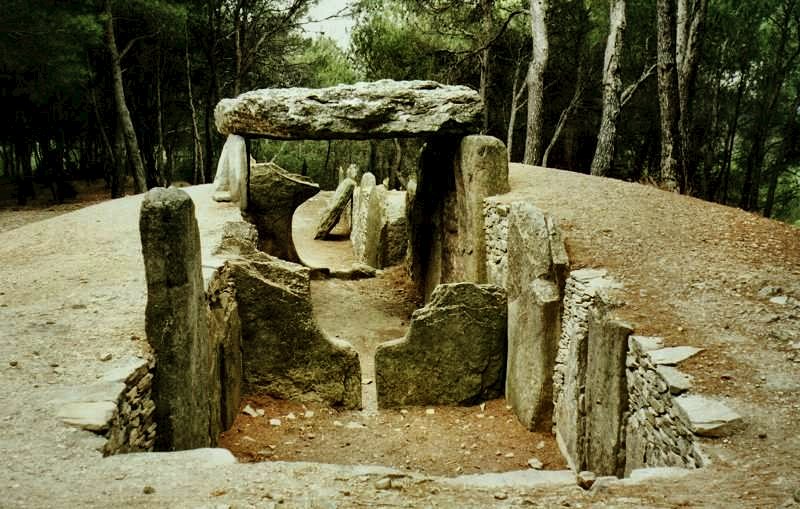 The antecheamber between the two "kennnel-hole" door-slabs.
L'antichambre entre ses deux « portes-de-four » .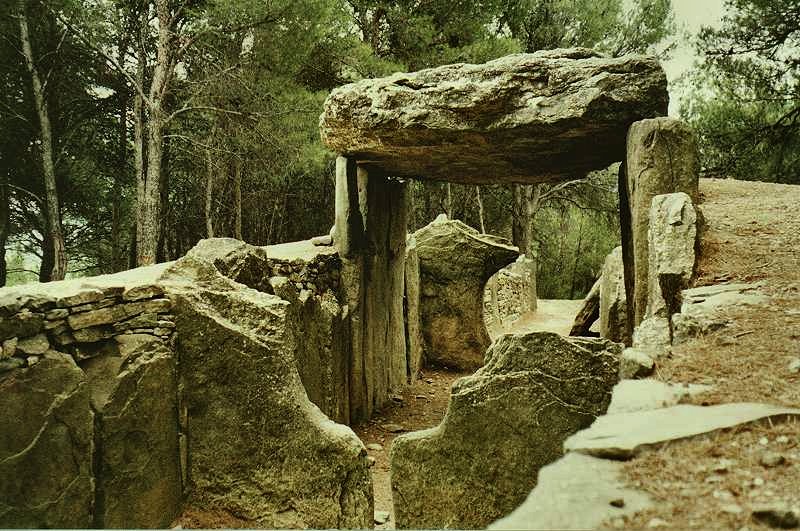 Situé à l'ouest de Siran (commune de Pépieux), au sud de la RD 52, cette tombe est la plus grande du sud de la France, avec ses 24 mètres de long. Mais elle est beaucoup plus ruinée que celle du Pouget, avec une seule dalle de couverture de calcaire à nummulites (dont le plus proche gisement se trouve à plus de 3 kilomètres) à un poids évalué à 25-30 tonnes. Les autres dalles du monument ont été extraites sur place, dans les affleurements de grès.

En rapport avec le gigantisme de la tombe, le tumulus a un développement de presque 35 mètres pour un hauteur pouvant atteindre les 2.50 mètres.

(A comparer avec celle de La Sauvagère dans l'Orne.)

This 24-metre long "Fairies' Cave", not far south of the D.52 running West of Siran, is the largest in the whole of Southern France. It is much more ruined than the dolmen at Gallardet, with just one roofstone surviving. It is of a kind of limestone found no nearer than 3 km away, and weighs an estimated 25-30 tons. The other surviving stones of the tomb are of local sandstone.

In keeping with the huge size of the tomb, the tumulus is a good 35 metres long and was up to 2.5 metres high.

(Compare with La Sauvagère , north of the Loire.)